A basic homeowners insurance policy will provide coverage for the cost of all damage sustained if a car, train, or airplane should slam into your home, but your actual vehicle is not protected when it is either parked in your driveway or inside of your garage. If you want automobile coverage in case of a natural disaster, such as fire or some other peril, you are required to buy an auto insurance policy that contains comprehensive coverage.
The general rule is that if a car causes damage to your property, then either the owner of the vehicle or the driver, if they are not one and the same, are liable for the cost, presuming that they are at fault. If their liability insurance isn't enough to pay for the amount of damage done, or in the case of they're being uninsured, you could then file a claim with your homeowners insurance company. But before you do this, be sure and get an estimate for the cost of repairs to be certain that the cost of the damage is actually higher than your deductible.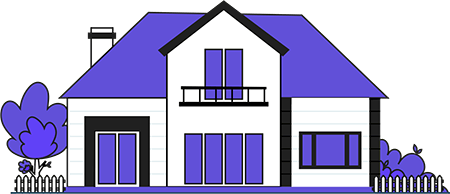 Compare Home Insurance Quotes
Save on your homeowners insurance premium by comparing offers from the best providers in your neighborhood.
Nearly all states have a requirement that drivers have a minimum amount of property damage or liability insurance coverage on their automobile policy. This coverage may aid in paying for any destruction to your property or home.
Comprehensive Coverage
As your basic homeowners policy does, your comprehensive auto insurance provides coverage for a vehicle against the sort of perils that would damage a home, for instance, vandalism, fire, theft, or natural disasters such as earthquakes, tornadoes, or hail. Actually, the truth is that your vehicle's coverage choices are a great deal more inclusive than your basic homeowners insurance which does not cover damage resulting from an earthquake, tornado, or flood.
The thinking behind this is that in most cases cars can be repaired and if need be, replaced less expensively and more easily than your average home. You should also remember that while comprehensive auto insurance is not required by state law, it might be a condition of your bank lender if your car happens to be financed or leased.
Auto Insurance Liability
Regardless of where you are, you can rest assured that your homeowners insurance will cover you should you accidentally injure someone. It's a different story if your car is connected with the accident, then you have to rely on your auto insurance to cover property damage costs or third-party injuries.
If your main concern is being sued, you have the option to upgrade to what is called an umbrella policy, which covers the difference if you surpass the limits of both your auto insurance and your homeowners insurance liability claims.
Uninsured Driver
If a car runs into your house and the driver is not insured, your homeowners insurance may cover the damage, however, you may have to pay the deductible. There's always the option of filing a lawsuit against the uninsured driver, but you could end up having to pay court costs and receive no payout for quite some time, as in years, even if you win.
Advice
If you run into someone's property or house with your vehicle, the property damage liability coverage you have for that vehicle should normally pay for the damage. If you want to really be smart, then you should carry a higher amount of liability insurance than your state necessitates so that your assets are completely protected.
Coverage for Garage Damage
Although your car might not be protected under your basic homeowners insurance policy, the garage you keep it in is covered, and this is so even if the garage is located near or apart from the property. If you want to protect single detached garages, sheds, and various other structures which are adjacent to your property, simply buy homeowners insurance that contains "Coverage B," which will cover your entire property. By selecting "Coverage A," you will have chosen a policy that will only cover garages that are part of your home.
Other Vehicles
Certain basic homeowners insurance policies will cover your all-terrain vehicle as long as it is kept in your garage, but not while you are driving it off your property. If you wish to have other vehicles insured, for example, off-road vehicles, boats, and motorcycles, you will need to obtain auto or boat insurance. Discuss the matter with your insurer to know for sure what is required.
The lesson to be taken from all this is to know your home insurance policy well. Read it inside and out and you will be aware of exactly where you stand should your car or property be damaged by someone else, or if you are in the unfortunate position of being behind the wheel and experience an accident.