Experiencing a volcanic eruption is concerning for many reasons, and you must always make sure your home is protected as much as possible before this happens. There are many hazards associated with an eruption that can even result in lava flows.
If you have a homeowners policy, you are on the right track in case an eruption occurs because the policy does cover many damages as a result of an eruption. Understanding the coverages ahead of time will allow you to feel certain your home is going to be repaired properly. Understanding exactly what your homeowners policy will cover and what is excluded will let you know if you need any additional coverage in place.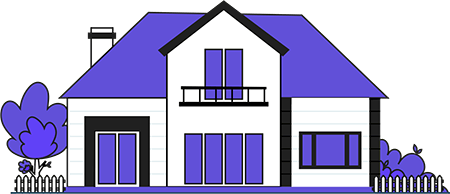 Compare Home Insurance Quotes
Save on your homeowners insurance premium by comparing offers from the best providers in your neighborhood.
Key takeaways
A homeowners policy will protect against volcanic eruptions and lava flow
As long as the damage is reported right away, the coverage will take effect
There are options to add endorsements and separate policies to cover excluded damage
When volcanic eruptions are covered by homeowners insurance
If you have homeowners insurance already, this is great news because many policies cover certain damages caused by volcanic eruptions. To check if you have this coverage in place, you will need to verify this with your homeowners insurance provider.
The agent you talk to will be able to explain exactly what is covered. Most policies will protect your dwelling if it is in need of a repair or a rebuild as a result of the damage. Your personal belongings will also be covered if they are damaged, and this coverage amount depends on the limit you have set.
Blasts and shockwaves can also occur during a volcanic eruption. When this happens, projectile debris can be flung toward your home and cause damage. Because this is a result of the eruption, your homeowners insurance policy will cover it. Most of the time, this debris will damage the siding and will need repairs.
The same will be covered if the damage is caused by lava flow. As long as it is in liquid form, your policy will cover damage caused by this flow. Reporting the damage from a lava flow right away is essential because the policy will not cover any hardened lava damage that occurs when you wait.
After an eruption, you need to consider there might be dust, ash, or debris left as a result of the incident. Many homeowners insurance policies that cover eruptions will also pay for the removal of these perils as long as they are causing a direct loss to your property. Since there is no such thing as a separate volcano policy, you need to figure out how much your homeowners policy will cover before discussing endorsements you can add to your existing coverage.
What damage is excluded from a homeowners insurance
There are a few situations that will not be covered by your homeowners insurance policy even if they are a direct result of a volcanic eruption. Knowing what is excluded ahead of time is a smart way to adequately protect your home.
Earthquake
If a volcanic eruption eventually causes an earthquake, your homeowners policy will not cover the damage. This falls under the category of earthquake insurance, which you would need to purchase as a separate policy. If you live in an area with volcanoes, it is a good idea to also secure an earthquake policy as earthquakes often follow eruptions. To make sure you have comprehensive coverage, you should ask your insurance agent about these options.
Volcanic Effusion
Volcanic effusion is when volcanic water and mud mix together and cause damage to your home's foundation. This combination can weaken the stability of your home and put it at risk of needing repairs or rebuilding. Because this is technically a result of flooding, your homeowners policy will not cover this. You will need to obtain a separate flood policy for these situations. Much like earthquake insurance, this is another way to make sure you are protected from all aspects of a volcanic eruption.
Gradual Losses
Any damage that happens over an extended period of time is known as a gradual loss. This will also not be covered because your homeowners policy is designed to protect against losses that cause immediate damage to your home. In case lava gradually flows onto your property and damages your home, this is considered a preventable event. The insurance is not likely to cover the cost of any removal or damage that is caused when this happens over a long period of time. This responsibility falls onto you if you do not take care of it right away.
Learning about these exclusions is smart because you never want to assume your homeowners insurance will cover the damages. Most situations are covered, but the above is unique and will require additional coverage.
What to do after volcanic eruption
In case a volcanic eruption occurs, you need to know what to do in order to make your home safe to reside in.
Be sure to document any damage that has occurred. This is going to be important if you have to file a claim. These images can be submitted to an insurance company so they can properly assess the damage and schedule an inspection.
As soon as it is safe, you should remove the ash and dust that was left from the eruption. This will ensure no gradual losses will take place. Since this debris is heavy, it can cause damage to your home.
If you are concerned about your vehicle, you will need to go through the same process of inspecting it and contact your auto insurance provider if there is damage. The same debris can do a lot of damage, so you need to be careful while removing it because of its abrasiveness.
Make sure you also document these damages for the purpose of filing any claims. As long as you perform this due diligence, you are going to make sure everything is repaired as soon as possible and safe for you.
Summary
Volcanic eruptions come with many hazards, but you are going to be prepared when you consider which insurance policies you have in place. Your agent will make you aware of any endorsements that are available and useful. These instances are going to help you feel safe in case of this natural disaster and allow you to easily file a claim when it is necessary.