California residents who are buying real estate near high-risk areas surrounded by flammable vegetation find it increasingly difficult to obtain home insurance. Wildfires burn thousands of homes in California and this is one of the state's longest-standing issues. California's government is struggling to stop insurance companies from abandoning home-owners in fire-prone areas which leave many of them without home insurance. What are your insurance options as a new homeowner in California and how do you insure your home for the full replacement value? This guide will cover all the details related to homeowners' insurance plans and house fires in CA.
So, does insurance cover wildfires in California? Yes, homeowners insurance plans cover wildfire damage in California. If the house is damaged in a wildfire, the insurance plan will cover the repair cost. In the event of a total loss, the company will pay the full market value of the home. If the home is valued at $650,000m the homeowners insurance will cover you for $650,000 and monthly living costs until the home is rebuilt and habitable. The average homeowners coverage includes the main residence, side structures, personal items, living costs, and other minor costs such as landscaping costs.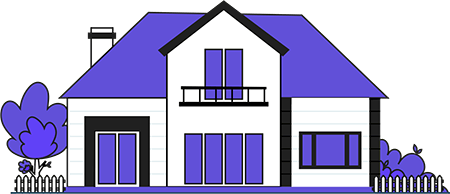 Compare Home Insurance Quotes
Save on your homeowners insurance premium by comparing offers from the best providers in your neighborhood.
The homeowner must make sure their policy provides protection against specific perils such as fires in order to be covered against wildfire damage. This is the tricky part: Many insurers outright refuse to insure CA homeowners located in high-risk areas where wildfires occur frequently. Even if you manage to find insurance, you may pay to the tune of 500% of the average homeowner in California. If your home is at risk of a wildfire, you have to understand the specifics of what your wildfire damage coverage can do for you in the event of a wildfire and how much coverage is available to you.
California has faced mega-fires that took weeks to put out and caused damage to the tune of billions of dollars and countless lives lost. Insurance companies are known to cancel policies on high-risk areas and the State of California even had to intervene once and place a ban on 800,000 cancellations that insurers were about to go through in riskier parts of the state in 2019. The state is always in conflict with insurance companies over the wildfire coverage issue.
Why Insurers Deny Coverage for CA Homeowners
In California, wildfires tend to get bigger and envelop larger areas. For instance, 40 years ago a large fire in the state would qualify as a fire that burnt 20,000 acres. In the past decade, it's very common that a wildfire could rip through over 100,000 acres. There are many reasons why this happens: Arson, global warming, urbanization, etc.
Prior to the "fire season", insurance companies start terminating clients and state their reasons for why they refuse to insure certain people. The most common reason for refusal is the geographic location of the house. Is your house located near a forest or canyon? Does the area have a history of wildfires? If you're a new home-owner, you can be denied coverage. Your policy can also be canceled for seemingly no reason at all. However, it comes down to the risk your property poses to the insurance company.
The single detrimental actor that impacts the state of your policy and premiums is the distance between your home and brush. If the home is located more than 2500 feet away from brush/wildfire areas and canyons, you will likely get standard coverage and your premiums won't be very high. However, if your property is located in proximity to brush you'll find it very hard to find insurance – you'll pay 5-10x as much as CA residents located in low-risk areas.
Do Californians Pay More for Wildfire Insurance?
Yes – Californians pay a lot more for home insurance than the average American. There are very few options for Californians who are canceled by their insurance company. If the insurance company deems your home too high risk before the fire season, they will notify your lender. In this case, you must start seeking a new home insurance policy immediately or the lender can purchase one for you.
In California, this is known as "Force-placed insurance". These are some of the most expensive home insurance plans in the nation. For instance, if you were dropped from your regular plan which costs $140/month, you can pay as much as $950 a month overnight when you're placed under force-placed insurance. There are huge variations in the amount CA homeowners pay depending on the risk factor of their home.
There are a few solutions for those homeowners to help them decrease their premiums. If you live near a brush area, wildfire area, or canyon, etc, start analyzing all insurance companies that service your area and reach out to them for quotes. You may luck out and find one that gives you great coverage at an acceptable cost. You can also add a fire insurance policy to your current policy and raise the limits at a small increase in your premiums.
How to Lower Your Premiums: Brush Distance
Insurance companies define "brush" as any live or dead bushes, trees, shrubs, and vegetation located in close proximity to your home. In California, pine trees are very common and they are highly flammable. The brush on your property can light or catch fire quickly. The vegetation growing in thick bundles on the ground poses a serious threat to your home as a fire source. Insurers are mostly scared of insuring homes that are in close proximity to native flammable vegetation that can't be removed.
If you clean up your yard of debris, tree branches, dried grass, etc, you'll make a better impression on the insurer. You can also decrease the risk on your home by moving vegetation further away from the home. For example, if you have trees touching your roof this poses a risk as the fire can transmit from the tree onto the house. The greenery should also not touch the home or hang within 3 feet of the roof.