A broken window can lead to a whole lot of headaches, such as infestations or water damage. If you discover that your window is leaking, will your homeowners insurance cover the leak? The answer is complicated, but you can generally expect damage due to a window leak to be covered, but not the cost of repairing the window itself. Rest assured, however, that as long as you properly maintain your house, a leak in one of your windows will likely be covered.
The main factor determining whether or not your insurance will cover damage due to window leak is whether the leak is caused by a peril that your policy covers.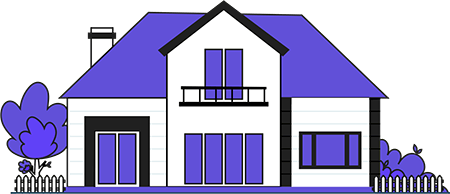 Compare Home Insurance Quotes
Save on your homeowners insurance premium by comparing offers from the best providers in your neighborhood.
Your Insurance Will Only Cover Damage from an Approved Peril
The main qualifying factor of insurance coverage lies in whether or not the cause of some damage is due to a covered peril. A peril is an event that damages your property or possessions, and your insurance dictates which perils are or are not covered. The specifics will change from policy to policy, however most modern homeowners insurance policies will cover all perils, except for those named in an explicit list.
The specifics of covered and uncovered perils vary from policy to policy, as well as what type of policy you have. The two most common types of home insurance policy are called HO-3 and HO-5. The major difference lies in their coverage of personal belongings: HO-3 policies are less expensive, and will only cover the damage to your personal belongings from a limited list of named perils, whereas an HO-5 policy will cover damage from any perils, excluding those explicitly named (often the same list as what is covered for your house.)
Therefore, the extent of coverage of a window leak will depend on the type of insurance policy you have.
You Have to Be Wary of Uncovered Perils
There are two major concerns that your insurance company has: whether or not a peril is avoidable, and whether or not an honest effort was made to mitigate an avoidable peril. Common uncovered perils include flooding (both from weather and from sewage problems), earthquakes, government action, or landslides. If you end up with property or personal belongings that are damaged due to one of these perils, the insurance company will likely not cover any of the cost.
Avoidable perils are ones such as infestation, damage due to tree root growth, mold or negligence. The uniting factor of these perils is that they could have been avoided if the homeowner was taking proper care of their property. In fact, this is a common cause for denials for insurance claims: if your insurance determines that you were negligent in maintaining your house, then they can deny your claim.
This Can Be a Major Factor in Whether or Not Your Insurance Will Cover Your Leaky Window
There can be many causes of a leaky window, and many of those causes can disqualify your window from insurance coverage. Your insurance will not cover a window if the materials used in it are past their lifetime, or if the damage was slow and neglected. Since neglect is the main scenario that leads to problems with window leaks, your insurance will be unlikely to cover the repair of the window itself.
On the other hand, many common scenarios can be covered. For example, most insurance policies will explicitly cover damage due to being crushed: if a tree gets blown over during a particularly harsh storm, and it crashes into your wall and damages your window, this is a scenario that is very likely to be covered by your insurance. Other commonly covered perils include damage from hail, damage from smoke or fires, or water damage due to a burst pipe.
The Main Coverage You Can Expect Is Damage from the Leak Itself
A lot of insurances will cover damage caused by the leaking window, as long as care was taken to limit the damage, and proper maintenance was done on the window. If the window leak causes damage to your belongings or to the actual structure of your house, you can expect your insurance will cover the cost of replacing or repairing the damage. Always make sure to check your specific policy to make sure that you have coverage for these types of events.