Woodpeckers have an insatiable attraction to wood in all forms. Though they usually peck trees, any home built with wood can become their next target. When homeowners discover these beautiful but potentially destructive avians have damaged their homes, they often file a claim with their homeowners insurance. Almost always, they receive a denial.
In most cases, bird, insect, and rodent damage (including woodpecker damage) fall under maintenance issues, which are not included in home insurance policies. Maintenance issues are the expected wear and tear that happens to homes over time. Damage from pests is an expected occurrence homeowners must plan to pay for out of pocket.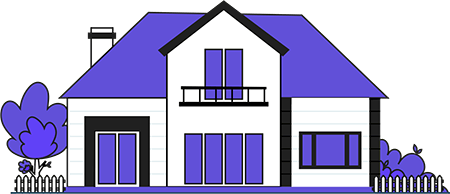 Compare Home Insurance Quotes
Save on your homeowners insurance premium by comparing offers from the best providers in your neighborhood.
What Can You Do to Prevent Woodpecker Infestations?
The sooner you know you have a woodpecker infestation, the better chance you have of preventing costly destruction. Once you realize they have invaded your home, contact a pest control specialist to force them out. Thankfully, woodpeckers produce loud noises when they peck at wood or metal. They do this to claim territory and as a mating signal. Be sure to never ignore this around your home. You may have a woodpecker infestation if you hear the distinctive woodpecker noise that should only occur in the forest.
To keep woodpeckers out of your home, consider the following strategies:
Prune the branches of large trees close to your home. This discourages them from pecking in proximity to your house because they prefer to stay in thick cover for protection. Pruning the branches near your home makes them feel vulnerable in those locations, so they are less likely to work their way from the tree to your siding.
Provide a food source they can easily access that is away from your home. Often, they seek insects on the trees in your yard, placing them in proximity to your house. A convenient cache of jelly, Suet, and mealworms at the far end of your yard incentivizes them to peck the trees growing away from your home.
Provide a ready-made cavity by installing a birdhouse in trees away from the home. Birdhouses are especially effective if the pecking is a prelude to nesting. Try placing it near or even over an area they have invaded.
Replace shingles or use wood putty to cover any holes already created by woodpeckers.
If you have woodpecker holes, stop insects from invading them by painting or staining over them.
Should woodpecker activity get out of hand or insects have already begun feeding on the home's wooden structure, call a pest control professional right away. Once they eliminate the insects, woodpeckers typically migrate elsewhere to feed.
Install reflective objects to frighten them away. Alternatively, wind chimes and recorded bird alarms send them flying.
Use netting, cloth, or foam to cover wooden areas where woodpeckers have invaded. Also, consider placing a fishing line or chicken wires one to two inches from the surface to prevent them from reaching attractive pecking material.
Place decoys to warn them away. For example, carved or plastic owls and hawks scare away woodpeckers.
Woodpecker damage can range from the minor annoyance of some small holes to significant damage to the home. The key is to take care of a woodpecker infestation before it becomes a major problem. Unfortunately, your homeowners insurance won't cover woodpecker damage, but you can stop them from turning your home's exterior into Swiss cheese with proper home maintenance.