As a homeowner there are many different reasons why a contractor or worker may need to enter your home and perform a service. If a contractor is hurt while on the job at your house, the issue of compensation arises. The question of workers' compensation when it comes to a home insurance policy is a complex one.
The short answer is homeowners insurance may cover a portion of workers' compensation expenses (medical costs, bills, salary), but it is not a workers' compensation policy. In very specific cases, a homeowners policy may cover some of these expenses, however, this is highly dependent on where you live, your state's labor laws, and what your policy states.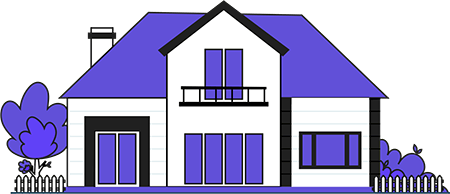 Compare Home Insurance Quotes
Save on your homeowners insurance premium by comparing offers from the best providers in your neighborhood.
What is Workers' Compensation?
Workers' compensation is an insurance policy that provides financial compensation for medical care in response to an injury or illness that occurred because of someone's job. Injuries and illness do not have to have occurred while at work in order for there to be compensation, so long as the ailment is due to someone's job. Workers' compensation is seen as a way to protect companies and organizations from lawsuit issues, while at the same time also protecting workers.
This financial coverage comes from the worker's employer. The overall monetary compensation amount depends on the employee's salary and state requirements. In many states, employees may receive up to two-thirds of their weekly salary for a determined amount of time. Depending on the severity, employers may also elect to have their employees do alternative work or have a lighter job load.
State Differences
The requirements and regulations of workers' compensation vary heavily by state. For example, in Idaho all employers that have more than one employee, regardless of the number of hours they work, are required to have workers' compensation. Household and domestic workers are exempt from receiving coverage. In Alabama however, employers are only required to offer workers' compensation if they have five or more employees. Under Alabama requirements, employers of household workers are also not required to offer workers compensation coverage.
Will My Homeowners Insurance Cover Workers' Compensation?
To determine if your policy will cover some of the expenses associated with workers' compensation, consider the following questions:
How many hours do they work in your home?
What is the contractor doing?
How did you hire them?
Work in Home
In order to qualify for workers' compensation, an individual must be employed. For homeowners, this means that if a worker works in a home for more than 40 hours a week they can be considered an employee of the household. Typical household employees are in positions revolving around care or house maintenance such as gardeners, babysitters, caretakers, and housekeepers.
Liability
In most cases, those who are employed by the household are covered under home insurance. If a state does not require workers' compensation insurance, homeowners insurance may be adequate for providing the coverage. To determine how much coverage you need, consider what your employee is doing. A babysitter is in far less danger than a person who is redoing the tiles on your roof.
The issue with relying on home insurance to cover worker's compensation is that most home insurance policies have a $300,000 maximum liability. Depending on the severity of the event and damage to a person, this may not be enough to financially cover all the costs of their medical care or time off work.
Hiring Method
The way in which you hire a contractor heavily influences if you are responsible for the payout of workers' compensation or not as a homeowner. If you contracted them through a company, the company they work for is responsible for workers' compensation. If you hire an individual as a contractor independently you are at possible risk of being sued should an injury arise. If this is a major concern, it is best to add an umbrella policy to your homeowners insurance to cover any additional liability.
Wrap Up
Most states require that employers have workers' compensation insurance. It is better to have a workers' compensation policy, rather than to depend on the possible coverage from home insurance. The need for workers' compensation coverage is typically only needed if you have a household employee or want to protect yourself from individual contractors from suing you.