While you may know that homeowners insurance covers loss or damage to most of your personal possessions from certain perils like fire, theft, or storm damage, you might not have known that this includes your large appliances. This would certainly include your refrigerator, which can be extremely expensive to repair or replace if it sustains damage.
What Home Appliances Are Insured?
Homeowners insurance will normally cover the contents of your house, and that includes your home appliances, thus your refrigerator. The interesting part of all this is that various kinds of coverage can help to protect different types of appliances providing they are damaged or destroyed by a covered peril.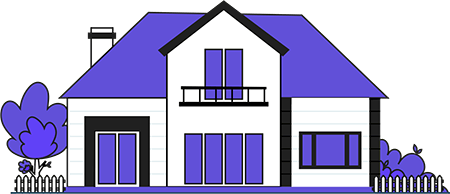 Compare Home Insurance Quotes
Save on your homeowners insurance premium by comparing offers from the best providers in your neighborhood.
When it comes to home appliances that merely plug into your outlets, for instance a refrigerator, oven, or blender, your homeowners insurance may assist in paying to replace these types of appliances under your personal property coverage. Then you have pieces of equipment that are built into your home, for example, a hot water heater or a furnace, which may be covered under the dwelling coverage in your homeowners insurance. There is also the case of when a home appliance is built into a structure that is located on your property but is not in your house, like a heater that you may install in your garage office. The appliance may be covered by the other structures protection that is listed in your homeowners policy.
You should know that if your refrigerator meets the standards for coverage and you require a replacement, it falls under either of two primary insurance types: actual cost value and replacement cost value. The first covers the refrigerator's value at the time during which it was damaged. This includes depreciation. Replacement cost differs in that it covers the expense of replacing the refrigerator with a brand new model.
This is a list of some of the perils that are normally covered under your home insurance that can affect your refrigerator, and certain instances in which your refrigerator may not be covered by your homeowners insurance:
1. Not Broken By a Listed Peril
This applies to the instance where your refrigerator isn't broken by a listed peril mentioned in your homeowners insurance policy.
Homeowners insurance ordinarily only covers the unavoidable and unexpected, so any damage caused by breakdowns related to normal wear and tear will not be covered. In other words, if your refrigerator is quite old and suffers damage due to its having aged, you will be considered responsible as the homeowner and will not receive reimbursement.
There is a way in which you could have coverage, and that is if you have obtained extra home repair insurance, equipment breakdown insurance, or home appliance insurance.
2. Warranty
Sometimes homeowners will obtain a home warranty to cover them from monetary loss should one of their big appliances or home systems, for example, air conditioning or perhaps a hot water heater, suffer a sudden breakdown.
New homeowners frequently buy home warranty plans to protect their appliances. If need be, these warranties can even be extended should you choose to select even greater protection.
Determining whether or not you need home warranty insurance can be a difficult decision, as there are both good and bad things involved.
To clarify, home warranty insurance covers the expenses connected to major home repairs. It is not, however, the same as homeowners insurance. The difference is that homeowners insurance will cover you in case of vandalism, fire, environmental disasters, and other major catastrophes, whereas warranty insurance only protects you from the expenses connected to replacing individual components of the home, such as your refrigerator and other appliances, your HVAC system, etc.
Now, of course, the concept of having greater protection is very nice in theory, but you should carefully consider the matter to determine if you honestly require this type of coverage, or are just trying to play it extra safe.
Carefully Look Over Your Finances
The main reason that people purchase home warranty insurance is because of the sense of security it brings. However, if this is a worthwhile expense or not is dependent upon your personal situation.
Also, remember that in addition to the expense of the insurance itself, there are other fees involved. A trade fee is required and is something you need to pay whenever you ask that a service person come out and look over some issue pertaining to your home.
Furthermore, as with basic homeowners insurance, not everything is covered. You are responsible for taking proper care of your appliances and their upkeep. If one of them breaks due to neglect, the insurance company can, and often will, deny your claim, and you will still be responsible for paying that trade fee mentioned earlier regardless of the outcome of the situation.
In the end, you and only you know your financial situation the best and can successfully determine which course to take to protect your appliances such as your refrigerator. Know, however, that your refrigerator is covered under your homeowners insurance, as are other large appliances. But you do have to meet the standards of your insurance company and not be responsible for neglecting the general upkeep and maintenance of these appliances or your insurance agency can and will refuse to pay the claim.