Over time, pipes corrode and need replacement. This type of expense falls into the maintenance category: As with all parts of a home, they eventually exceed their useful life and must be replaced. However, if your cast iron pipes were damaged or destroyed by a covered peril, such as a fire, your homeowners insurance policy will replace them along with the other impacted components of your dwelling.
Why Are Pipe Replacements and Repairs Not Covered?
Your homeowners policy bases claims eligibility on the cause of the loss, not the particular items impacted. For example, your policy covers personal property losses due to covered perils, such as a fire or burglary. However, if that same personal property needs replacement simply because it has worn out, your policy does not cover the cost.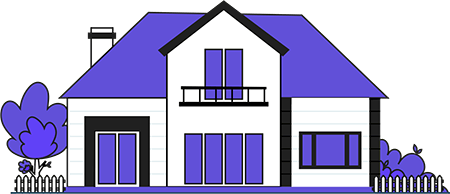 Compare Home Insurance Quotes
Save on your homeowners insurance premium by comparing offers from the best providers in your neighborhood.
The same logic applies to appliances. If a fire or storm destroys your kitchen, replacement of your refrigerator, stove, and dishwasher becomes part of the overall claim. However, when these items break down mechanically, it is a maintenance, not a casualty, issue.
Insurance companies regard pipes in the same light. If a tornado rips apart half your house and the corresponding plumbing, your home insurance pays for the restoration in full. However, a pipe that has corroded over time is the homeowner's responsibility.
What Are Covered Perils?
Covered perils consist of specific events that insurers protect policyholders against financially. Many of these are enumerated in the policy, and common covered perils include the following:
Tornadoes
Fires
Wind damage
Lightning strikes
Vandalism
Burglary
Other disasters outside the homeowner's control
When one of these catastrophes strikes, your homeowners policy kicks into gear and pays for the damages.
Non-Covered Perils
Not all perils, however, receive coverage under homeowners insurance policies. Most policies have specified exclusions. Earthquakes and floods are two of the most prominent.
Flood Insurance
Homeowners insurance covers damage from water leaks. For instance, if a pipe bursts and sends water flowing into your living room, causing thousands of dollars in damage, your homeowners policy will likely fully cover the damage (minus the deductible). But homeowners' policies specifically preclude claims for general flooding, such as a river overflowing its banks or water streaming into the home after extreme rainfall.
The good news for homeowners is that they can purchase separate flood insurance policies. Because the federal government guarantees homeowners the ability to buy this coverage regardless of location, homebuyers can rest assured they can protect their investment from this peril. In addition, if an area is flood-prone, many mortgage lenders require borrowers to purchase this insurance.
Earthquakes
Most parts of the U.S. are in little danger of earthquakes, but some locations seem to be sitting on a fault line time bomb. If you live in one of these areas, earthquake insurance is a good idea. These policies will repair or replace a home devastated by an earthquake, but make sure to have some cash savings as well because the deductibles for earthquake insurance are very high, often over $10,000.
What About Hurricanes?
Most homeowners policies cover hurricane damage, but a separate deductible often applies. For example, if your policy deductible is $1,000, your insurer may specify that the hurricane deductible is $10,000. As with earthquakes, if you live in an area prone to this type of disaster, it pays to have some savings to meet high out-of-pocket costs.
Pipes serve an essential function in a home. As with other parts of the dwelling, homeowners insurance pays for their replacement if damaged or destroyed by a covered peril, such as fire. However, pipes that must be replaced due to age, corrosion, or other maintenance issues are the homeowner's sole responsibility.