Short answer: No, homeowners insurance generally does not cover damage due to arson.
In 2017, there were nearly 500,000 structural fires in the U.S., with three-quarters of them occurring in or affecting homes. Home insurance can be extremely helpful when it comes to accidental and unintentional fire damage.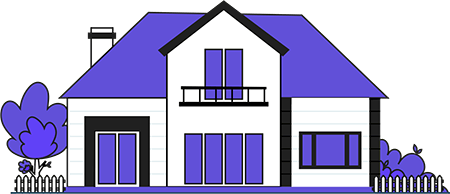 Compare Home Insurance Quotes
Save on your homeowners insurance premium by comparing offers from the best providers in your neighborhood.
What is Arson, Exactly?
Arson is the criminal act of purposefully starting a fire with the intention of damaging their own home. However, in the eyes of insurance companies, the homeowner does not specifically have to be the person who started the fire. It may still be considered arson if the fire was started by someone living in the home, or someone hired by the homeowner to set the property on fire. Arson is not covered by homeowner's insurance because it is generally used to defraud an insurance company and obtain a payout.
By contrast, setting fire to someone else's home is usually considered an act of vandalism. In this case, the homeowner (or the residents of the property) did not intend to damage the home. Homeowners' insurance policies will cover this type of incident.
Arson of a Vacant Home
Generally, damage resulting from arson that was the malicious act of a third party will be covered by insurance. But what happens when the home is vacant? This scenario can come up if you have purchased a home but won't be moving in for several weeks, if you're undergoing extensive medical treatment, or if you own a vacation home and only visit a few times a year.
A case in 2019 addressed this exact issue (see Wells Fargo Bank, N.A. v. Allstate Ins. Co., from the 6th Circuit). Wells Fargo Bank had an insurance policy on an abandoned home that was set on fire by an unidentified arsonist. The insurance company refused to pay for the damages, claiming that arson fell under the umbrella term of "vandalism" and therefore was not covered if the property had been vacant for more than thirty consecutive days. The court looked to different sections of the insurance policy and ultimately determined that the insurer's interpretation of the policy was incorrect. The court concluded that arson should be considered fire loss and that the insurer was obligated to pay out to Wells Fargo.
It is important to read your insurance policy carefully, especially concerning language about vacant homes. If you plan on leaving your home vacant for a few months (like in the case of a vacation home), you should ask your insurance representative about unoccupied and vacant home insurance, which can provide greater protection when calamity strikes.
Vehicle Damaged by Fire
Suppose you come home from a vacation to find that you have been the victim of an incident involving fire. Unfortunately, your vehicle was parked in the garage and sustained extensive damage. In this scenario, your homeowner's insurance would not cover the damage to the vehicle. Rather, this would be covered under your auto policy if you have comprehensive insurance.
Final Thoughts
Sometimes, it is difficult for insurers to rule out fires as accidents. Although this can be stressful, if you are the victim of an accident to your home involving fire, call your insurance representative and discuss the situation. Provide as much information as you can about what happened, but if the fire department's investigation is inconclusive, you may want to consider hiring an independent fire investigator to obtain a second opinion about the fire damage. If you have any questions about what is covered under your insurance policy, you should speak to your insurance representative immediately.