Yes, home insurance covers fence damage caused by winds in most cases. Generally, wind-related damage such as blown-down fence will be covered by your homeowners insurance, but you should check with your insurance agent if you live in an area particularly prone to hurricane activity.
Damage to Fences
Fence damage is not always inevitable, but it is certainly unpredictable. While most damage can be mitigated with general maintenance, sometimes more significant damage to your fence may occur. Your fence will typically be covered for the same unexpected events as your home. This includes damage from windstorms, lightning, vehicle damage, fire, and even vandalism.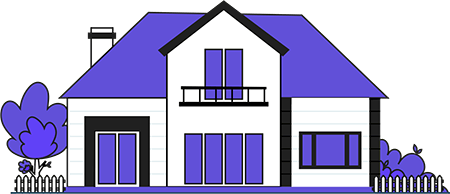 Compare Home Insurance Quotes
Save on your homeowners insurance premium by comparing offers from the best providers in your neighborhood.
Limit to Coverage
Although a damaged fence will be covered by your insurance, the repairs or replacement will be for actual cash value. This means that the insurance company will help you cover the cost, but they will consider the fence's age and condition. So, if your fence was built to last 20 years, and it was blown down after 15 years of standing strong, your insurance will generally only pay one-quarter of its
You can, in some circumstances, opt for replacement cost coverage, which would repair or replace your fence with a new fence of the same type, kind, and quality. However, wood fences are never eligible for replacement coverage.
Typically, structures like your fence (or your stand-alone garage) are insured for up to 10% of the overall amount of coverage on your home. Therefore, if your home is insured for $750,000, then your claim limit for other structures – like the fence or stand-alone garage – would be $75,000. When looking at insurance policies, make sure that your coverage reflects not only the cost of rebuilding the structure if necessary, but also the cost of fully replacing your personal belongings.
Hurricanes & Specifically Not Covered
The major exceptions to the rule are (a) when hurricanes occur and (b) when your insurance policy specifically does not cover wind damage due to a hurricane. This is usually true for homeowners in geographic areas that are more prone to incur damage due to hurricanes, like the southeastern United States.
My Fence Was Blown Down
If your fence suffered damage due to wind and you choose to file an insurance claim, you'll want to make sure to document the damage thoroughly with multiple photos and/or video if possible. Make sure to include photos of the fence before the damage. Finally, do not move or clean up the damage unless you must do so in the interest of safety.
Generally, homeowners insurance will cover the cost of your damages. However, if you (the homeowner) neglected to take care of the fence or let it fall into disrepair, and its deteriorated state made it more likely to cause damage to yours or someone else's property, that may make things more complicated when it comes to your insurance.
My Property Was Damaged Due to My Neighbor's Blown-Down Fence!
It seems unlikely to many of us, but then again, insurance is meant to cover the things we do not anticipate on a day to day basis. What happens when, in the middle of a storm, your neighbor's fence is blown over and dents your car or causes damage to your fence or home? The general rule is that your property is your responsibility. Your homeowner's insurance will likely cover the cost of the damage to your property. However, you need to make sure scenarios similar to this one are covered under your insurance policy.
Tornadoes, Hurricanes, Windstorms, Oh My!
The Insurance Information Institute (III) noted that approximately 1,200 tornadoes develop every year in the United States – some with gusts of wind as high as 200 miles per hour. That's enough to rip nearly any fence out of the ground! However, heavy winds do not just plague the Midwest. Hurricanes in the Southeast, the East Coast, and the Pacific Islands can produce winds 75-150mph causing significant damage. Windstorms cause extensive damage every fall and winter in the Pacific Northwest, including Southeast Alaska. Unless you live in Catalina Foothills, AZ (this city experiences an average wind speed of only 1 MPH!), your home is likely to be affected by winds – and you should be prepared for it.
Final Thoughts
Homes are full of maintenance expenses, and while it is generally prudent to care for and maintain your fence, there are times when it can incur damage as a result of unexpected storms, including tornadoes, hurricanes, and wind storms. Generally, the cost of this type of damage to your fence will be covered by your homeowner's insurance policy. Remember to take the time to read and understand your homeowner's insurance so that you know exactly what is covered and what isn't, and to talk to your insurance representative if you have any questions about what is included in your insurance policy.