Power surges are sudden increases in electricity that have the potential to destroy electric hardware in the home in a matter of seconds. If you experience a power surge, this can cause damage to the tune of tens of thousands of dollars. With the average US household using more appliances than ever, power surges become a major nuisance.
So, does homeowner insurance cover power surges? Yes, homeowners insurance covers power surges – specifically the damage caused by power surges to electronics and appliances in the household. A standard HO-3 or HO-5 homeowners policy will cover you for the damages caused by a power surge. Note: There may be a few exclusions depending on how the power surge occurred. Consult your insurance agent to find out if you're covered for power surges under an open perils policy.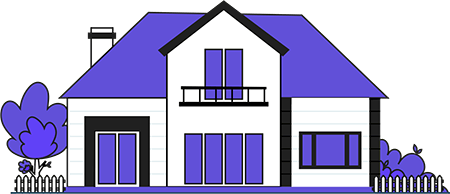 Compare Home Insurance Quotes
Save on your homeowners insurance premium by comparing offers from the best providers in your neighborhood.
Investing in protective equipment and inverter generators is a smart investment to protect your home ahead of time. In this guide, we'll focus on what happens if the home is not prepared for a power surge but you still have homeowners insurance that covers you for property damage, liability, and personal property. We'll walk you through which appliances are covered and how to file a claim.
What Causes Power Surges?
Power surges are sudden increases/spikes in the home's electric grid. They are interruptions that have the potential of damaging all electronic appliances connected to the home's power grid. This includes appliances such as the fridge and electronics like mobile phones and TVs. Power surges don't take long to develop and usually occur in a matter of seconds.
The appliances can be permanently destroyed in a matter of seconds during a power surge. Power surge are caused by different things and they can originate directly from the home's electric grid or an external force such as lightning striking an eclectic pole near your home. If a power line falls, this can also cause a power surge in your home.
The following are the most common causes of power surges in the nation:
Outlet overload.
Power failures.
Damages in electric wiring.
High-demand devices.
Pro Tip: The personal property coverage on your HO-3 homeowners' policy will include personal property such as clothes, electronics, furniture, and appliances. If any of your appliances in the kitchen, living room or bathroom are destroyed in a power surge you can file a claim with the insurance company for personal property damage.
However, there are minor differences in the policies written by different insurance companies. Certain companies may not cover you for some types of power surges and depending on the cause, you may not be eligible to receive a payout for the damage. This is why it's important to protect your electronics in advance and check whether you're covered for power surges with your insurance company.
Homeowners Insurance Power Surges: What's Covered
The following personal property in the household is going to be covered for power surges on a standard HO-3 homeowners plan:
Appliances. Kitchen appliances such as the fridge, microwave, stove, or any essential item that is connected to the electric grid and may be damaged are covered. This includes all appliances in the home.
Electric Wiring. Is your electric wiring damaged? Do you need to replace certain wires to make it function again? If the wires were damaged during a power surge, you are entitled to a full replacement cost for new wires.
Electronic Devices. All electronic devices in the household from the TV to computers and smartphones can be replaced. If these items are damaged during a power surge, you can file a claim on them the same way you can for appliances.
Note: Insurance companies limit the amount you can claim per item. For instance, you may be limited to around $1500 per item. If you have to replace the fridge and your iPhone, you'll only get $1500 even though the fridge costs a lot more. The only replacement for this policy is to replace the "per item" policy with a "total limit" policy that can cover you for the full replacement cost of all items in your household.
How To File A Claim For A Power Surge
Had a power surge in your home? Is your personal property damaged? You can file a claim for every belonging in your home. When you purchase a homeowners HO-3 policy, the insurance company makes you write down a list of all personal property while marking down its value. You can make a list of all damaged property and file it to the insurance office. You'll have to down which items are destroyed and provide visual proof for the insurer.
The following is 5-step process to filing insurance claims for property damaged during power surges:
Estimate the total damage to the appliances/electronics and write down how much you need to replace those items.
Write down details about the power surge. Include information such as what happened, how many items were damaged, and the date/time of the power surge.
Submit your documents for review. Certain insurance companies will allow you to file a claim online, while with most you'll have to present your documentation at the office personally.
Pay the deductible. The insurance company will ask you to pay a deductible before they cover the cost of the damage incurred by the power surge. Let's say the total cost to repair all appliances exceeds the deductible. In this case, you can continue working with the adjuster to determine a settlement amount.
Collect the payment. The insurance company will wire the money to your bank account or send you a check for the total damaged property.
How To Protect Your Home Against Power Surges
There are few protective measures you can take to protect your home against power surges so you don't have to file claims. Remember it's always better to prepare in advance. The most proactive thing you can do is to purchase a surge protector. This is a device that can protect your home's electric wiring from any potential surges. Prepare yourself for every storm by unplugging all appliances in advance.
If you want to take it a step further, purchase a lightning protection system. Write down a list of inventory of all items in your household and consider whether you have enough coverage for all of them. This way you won't have to provide evidence for your claims or bother replacing your appliances.
It's unfortunate when appliances get fried in an accidental power surge. However, most people learn this the hard way. This is why you want to prepare yourself in advance by investing in the right equipment and purchasing coverage for all appliances in your household.