Basic homeowners insurance policies normally do not cover termite damage or the successful treatment of the infestation, nor will they cover damage caused by other kinds of pests. The reason for this is that insurers view these instances as home maintenance issues that taking proper care of your home could have avoided. As the homeowner, it is your responsibility to make certain that these problems do not occur and it is on your shoulders that the blame will fall if they do.
Exactly Why Does Homeowners Insurance Not Cover Termite Treatment?
Because of their predilection for chomping through wood with the speed of a laser, termites cause billions of dollars worth of property damage every year. However, as opposed to instances when property damage is the result of bad weather — such as a hurricane, violent thunderstorm, or flooding, termite infestations usually build up in intensity over time, and thus insurers believe it is something that proper home maintenance could have circumvented.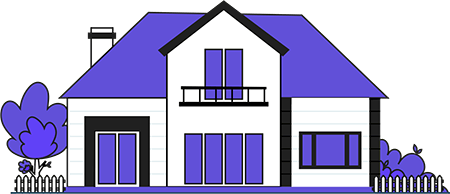 Compare Home Insurance Quotes
Save on your homeowners insurance premium by comparing offers from the best providers in your neighborhood.
Due to the fact that maintenance problems are not covered by homeowners insurance, any claim you try to file with your insurance provider will probably be denied.
When Homeowners Insurance May Save You From Termite Damage Expenses
There are two rare instances in which your homeowners insurance may cover termite damage and treatment:
1. A fire, windstorm, burst pipe, or any other covered peril is directly responsible for causing an infestation.
2. The damage is located in an area where it could not easily be discovered and as a result, led to your house falling down.
Termite Damage Caused By Covered Peril
If it turns out that termite damage was directly caused by a covered peril, then your homeowners insurance may cover the cost of treatment and repairs.
Take this for instance. If a pipe were to abruptly burst and this led to water damage — a covered peril — and this, in turn, causes a termite invasion. It's possible that your insurance agency will label the internal water damage as the "proximate cause" of the termites, or in other words, the basic cause of the infestation. This amounts to stating that the termites would not have been present in your home if not for the water that resulted from the pipe bursting. When dealing with such an issue, your insurance company just might cover the cost of repairs.
Hidden Termite Damage Leads to a Collapse
There are no guarantees of coverage under these circumstances, it simply depends on your insurance agency, but if a termite invasion is concealed from being obviously seen, such as located under the floorboards, and you didn't know about it and this leads to the collapse of part of your home, your insurance policy may provide some assistance in covering the cost of repairs and treatment.
What Steps Should You Take If Termite Damage and Treatment Isn't Covered
If it turns out that your homeowners insurance doesn't cover the termite damage you have experienced or any measures necessary to get rid of them, what should you do? Well, you do have some options.
If you spot termite damage that has occurred in your home, there's a chance you can treat it yourself if you managed to catch it in its early stages. That's why you should be vigilant when it comes to looking for signs that these nasty critters are active on your property.
Below are several things you can do if you have a vast amount of termite damage and your homeowners insurance company will not accept your claim so you must hire an exterminator on your own:
1. Make room in your budget for a termite inspection and extermination — Having your home treated for a termite infestation can cost you from $200 to $2,500 depending on just how bad the invasion is, how large your home is, and the type of treatment required to solve the problem.
2. Do your research and get quotes from at least three exterminators — Sure it's a lot of work, but it is also the only way you are going to be certain that you are settling for the best deal possible.
3. Hire a professional contractor for any necessary repairs — In the case where the structure of your home has suffered substantial damage, you shouldn't try to do the repairs on your own, but accept the fact that you must hire a contractor.
The lesson to be learned from all this is that your average homeowners insurance policy most likely isn't going to cover termite treatment and damage. So you should read your policy thoroughly and discuss with your agent exactly under what circumstances your insurance would protect you in case of termite damage and the required treatment. You also need to know when you will be left to deal with the problem on your own.