Trees look beautiful and purify the oxygen we need to breathe. However, it's difficult to appreciate the beauty of trees if you return home only to find out one has fallen over your car. If you parked your car underneath a tree during a storm, it could easily tip over and annihilate your car. If a tree falls over your car, the damage may be so severe that you'll likely need a replacement.
The first thing on your mind is whether your home insurance or your car insurance is going to cover this. Our guide will cover the nuances related to falling objects on cars and who bears the responsibility – is it you or the neighbors? We'll also cover which types of insurance can cover you for repairs/replacements on your car as home insurance and auto insurance differ significantly.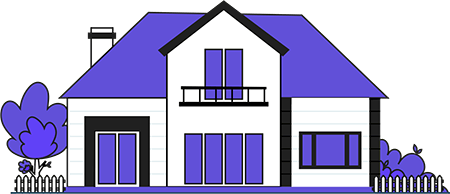 Compare Home Insurance Quotes
Save on your homeowners insurance premium by comparing offers from the best providers in your neighborhood.
So, does homeowners insurance cover a tree falling on a car? No, homeowners insurance does not cover trees falling on your car. Only comprehensive coverage on your auto insurance policy can cover damages from falling objects. Homeowners insurance can only pay to clean up the debris if the tree is blocking your driveway. However, it will never compensate you for car damages because it assumes you have separate auto insurance. Home insurance only covers you for damage to the main dwelling and the surrounding structures. Comprehensive coverage is an optional add-on policy to auto insurance that will cover you for falling objects such as trees. You'll need to upgrade your auto insurance to get this coverage.
How to Protect Your Car From Falling Objects
The biggest mistake car owners make is they park their car on the driveway instead of inside the garage. This leaves it susceptible to the elements and makes it more prone to storm damage, especially from falling trees. We've all witnessed at least a few large trees being ripped out and blown off after a major storm. The wind is the main contributor to property damage because it can rip out tree branches and project them towards your home and vehicle.
The best way to protect your car from falling trees is to park it in the garage or an external carport. Regardless of the case, comprehensive insurance will cover you for all damages caused by falling trees and tree branches. This is written under a "falling objects" clause in the policy. Comprehensive insurance will also cover you for storm damage and hail damage.
Here's the kicker: Trees can fall without a storm. You may not see it coming, but if a tree dies it will eventually fall after a few months. Have you ever driven on a highway and witnessed an entire tree crashing down? This is because after a while the tree loses support from the dead root and crushes abruptly.
The same could happen to a tree in your neighborhood. The good news is that all accidents related to falling objects will be covered under comprehensive insurance. If a tree you own causes damage to a neighbor, your homeowners insurance policy will cover them using your liability insurance limits.
Who Is Responsible: You or Your Neighbor?
If a tree belonging to a neighbor's property crashes and slams into your car, this will be covered by your comprehensive insurance. If the tree causes damage to your home, you'll be covered under your own home insurance policy for all damages. The main dwelling is insured at 100% of the coverage limit while your side structures like garages and sheds are insured at 10% of the total coverage limit.
If the neighbor neglected the tree and it fell as a result of negligence, they'll have to pay for the damage to your property through their liability insurance. If they refuse to pay for the damage, you'll have to provide evidence that you asked your neighbor to remove the dead tree before it fell on your property. It's up to you to prove that it was Mother Nature that caused the tree to fall and you can file a successful claim.
In some cases, the neighbor may attempt to take down a tree branch to trip the tree and one of these trees falls over your car. If you can prove that the neighbor was negligent in their trim attempt (which is visible by the damage), you won't have to make a claim on your comprehensive insurance policy.
Road Accidents with Fallen Trees
Tree collisions on the road are commonplace. Let's say you're driving on a country road and you don't pay attention for two seconds, then you slam into a tree that has fallen on the road. This is considered a collision accident because you're colliding with another subject and the tree didn't fall while your car was in a standstill.
To receive compensation for this damage, your auto insurance has to have a clause that states you're covered for collision accidents. Most comprehensive insurance plans will cover you for collision with fallen trees on the road. This coverage is especially important if you live in a mountainous state with plenty of forests because you'll eventually encounter some dead trees on the road.
Always watch out for obstacles on the road and make sure you drive slowly which would give you the ability to stop before a collision. On the other hand, falling objects can't be avoided which is why you should always upgrade your auto insurance to include comprehensive insurance.
How to File a Claim for Tree Falling on a Car
To file a successful claim for tree damage, you have to provide photographic evidence of the damage. Start by taking dozens of photos on your phone to cover every angle of the accident. Use this to file a claim with the insurance company in person or online.
Call your insurance provider to find out what you can do to speed up the claims process because you'll also have to remove the debris before you can take the car to the body shop. In some cases, you'll need to have the vehicle towed if it's too damaged. Ask the insurance company if they have a body shop where they can tow the vehicle and repair it for you.