Home insurance covers property damage and personal property such as the air conditioning (HVAC) unit. Each home insurance policy defines a set of covered perils that you can claim damages on. The home insurance company can help you find a replacement for an AC unit that stops working or causes damage to the surrounding walls.
However, the cause of the damage to the AC that causes damage in your interior has to be covered in the "named perils" written under your HO-3 policy. This guide will focus on HVAC unit damage including structural damage caused by malfunctioning. We'll show you which damage qualifies for a claim from a specific clause in your policy.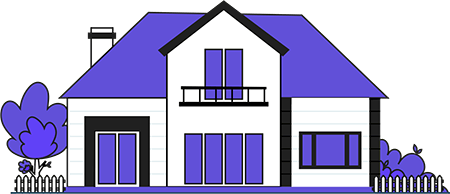 Compare Home Insurance Quotes
Save on your homeowners insurance premium by comparing offers from the best providers in your neighborhood.
So, does homeowners insurance cover water damage from the air conditioner? Yes, homeowners insurance covers water damage from an air conditioner if the unit was damaged by one of the named perils listed in your policy. The insurance company will cover the repair cost for the damage done to your walls and floors, including the repair of the HVAC unit. However, this only applies if the damage was caused by natural causes or burglary. If the AC unit was damaged due to lack of maintenance on your end, the insurance company may refuse to cover the damage that ensued.
HO-3 Policies and HVAC Systems
HVAC repairs are common as they require constant maintenance. There are many potential downsides to a malfunctioning AC unit. Aside from not being able to ventilate or heat your home, you may have to deal with water damage from a leaking AC unit. This can lead to paint discoloration or molding on your walls and floors.
The insurance company will pay for the damages as long as it was not your fault that the AC unit malfunctioned. The HO-3 policy protects your home from damage caused by vandalism, fires, lightning strikes, and flooding. If one of these causes the AC unit to malfunction, you can file a claim for repairs.
However, if the damage was caused by a maintenance issue that you did not address on time, you'll have to pay for the repairs out of pocket. AC units can malfunction after 5 years in use and especially if they're decades old. Insurance companies will outright refuse to fix water damage by an outdated AC.
Most Common Causes of AC Damage
Aside from a lack of maintenance, AC units can malfunction for a number of different reasons. These are the only acceptable causes that an insurance company will pay out on. Example: If the AC is damaged in a house fire and it starts leaking water, you will be paid off for the damages. If lightning strikes the home and the AC unit malfunctions, you will also be compensated.
If a tree falls over an external AC unit and it shatters and spills water, you will be protected because the policy includes a clause for falling objects. Man-made damage to the AC unit is also covered as long as you didn't cause it yourself. For instance, if the heat pump on the AC unit is vandalized, you'll be covered for repairs because the HO-3 policy includes coverage for vandalism. In this instance, you'll also have to provide evidence of a police report on the damage. If you doubt whether you have specific coverage for a certain form of damage, consult your insurance agent as policies vary.
Why Your Water Damage Claim Was Rejected
Homeowners insurance covers you for water damage which is NOT caused by a lack of maintenance. For instance, if a pipe bursts in the basement and you didn't carry out maintenance on the pipe, the adjustor will determine it was your fault and you won't be paid out for the claim. The same applies to water damage caused by malfunctioning AC units. ACs aren't highly susceptible to water damage, but they require water as part of their operation. This water can leak to your home and cause flooding. You must check the AC every month to make sure it's not draining.
If the water damage was caused by general AC wear and tear, accidents, or lack of maintenance, your claim will also be rejected. Air conditioners are not very durable and most start malfunctioning after 10 years of use. If you have an old AC you will likely start experiencing functional problems and water leaks. It is entirely up to you to pay for the water damage or replace the unit.
HO-3 plans will treat the AC unit differently depending on where it's located. For instance, window AC units are not considered part of the structure of the home but they are considered personal property. This means that the coverage you have on a window AC unit is smaller than you would have on a central AC unit. Most personal property in the home is capped at $1000-2000 per item, depending on your policy. This means you won't be covered for the full cost of a replacement, even if you make a successful claim.
Central AC units are deemed an integral part of the home's structure which means they're entitled to the full coverage limit on your home. If you're about to install an AC unit in your home, make sure you opt for central AC. The insurance companies treat central AC's under an open-perils policy which means you're covered regardless of the origin of the damage. Window AC units are only covered for named perils, that is they're limited to 16 causes on average.
How to File a Water Damage Claim for HVAC Malfunction
Do you believe you have a justified reason to file a claim? If the water damage was not caused due to a lack of maintenance, you'll have to present evidence to the homeowners insurance company. Start by documenting the damage and taking pictures and videos of the damage. In case your AC was vandalized, get a copy of the police report.
The insurance company will ask for your AC unit and serial number. The agent will arrive at your property and ask how the AC unit was damaged to discuss whether the policy covers the peril and how much you're entitled to. They will also send an adjuster to survey the damage and estimate the cost to repair the water damage.