Depending on who you ask, your roof is probably the most essential feature of the structure of your home and its condition can have a huge effect on the cost of your homeowners insurance. It's certainly true that the expense of replacing or repairing your roof can be extreme, it can also pay off handsomely when done at the appropriate time.
Several factors can affect your homeowners insurance rates and it's possible that getting a new roof — or having some serious roof repairs done — can indeed help to greatly reduce the amount you pay for homeowners insurance.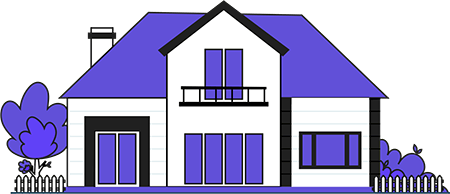 Compare Home Insurance Quotes
Save on your homeowners insurance premium by comparing offers from the best providers in your neighborhood.
In accordance with the age of your roof, what materials it's constructed from and the manner in which it was installed, you can receive a discount on your homeowners insurance premiums.
Will a New roof Lower Homeowners Insurance Premiums?
If you completely replace your roof with a new one, it could save you anywhere from hundreds to thousands of dollars on your homeowners insurance premiums annually. It's essential to view every part of the construction of your roof as an investment because your roof provides one of the most vital shields protecting your family from the perils that could possibly cause damage.
Regardless of how large or small your roof repairs are, notify your insurance agency as soon as possible. You may be able to obtain a bonus of lower homeowners insurance rates and you want to be certain that your insurance agent calculates how much you can save.
New Roof Homeowners Insurance Discount
The discounts you actually receive will differ according to where you live and the details included in your premium, but it's possible that you could receive between 5% and 40% for a roof upgrade. Also, it goes without saying that the amount you pay and the amount of the discount you obtain will depend on the size of your home.
Furthermore, your insurance company will need to consider the material your new roof is made of before informing you of what the amount of discount you qualify for is. In general, insurance companies often discount your policy by 20% or more for replacing the entire roof.
Roof Requirements Under Homeowners Insurance
For a new client, many insurance agencies won't extend a policy to you if your roof is 40 years old and hasn't been substantially repaired or replaced. Even if you are renewing your policy, those same requirements could apply to you or your agency may drop your coverage completely.
It's true that certain roofing materials have a longer lifespan than others, but they can also be more expensive to repair or replace if damage occurs. It's possible that your insurance company could off discounts based on how old your roof is and the upgrades that have been done over the years, which would also include the addition of any storm-resistant materials.
Construction, Materials Used, Age of Roof and Homeowners Insurance
The materials that compose your roof are a necessary part of estimating the complete quality of your roof. Repairing or getting an entirely new roof with materials known to be stronger and more protective than others makes your home less apt to sustain expensive damage under violent weather conditions.
Insurance companies rate roof materials on a scale of one to four, so if you hire a company to do roof renovating and they use Class 4 materials, it will lead to the greatest drop in your homeowners insurance rates.
Part of these materials could be stronger shingles made from aluminum, resin, plastic, or copper.
Does Homeowners Insurance Cover the Cost of a New Roof?
The only circumstances under which homeowners insurance will pay for a new roof are if said roof was destroyed or damaged by a covered peril, like a hailstorm or a windstorm, or a violent thunderstorm. In those cases a destroyed or leaking roof might be covered. What your homeowners insurance definitely won't pay for is to install a new roof or repair your present roof if the damage was due to neglect or poor upkeep.
So while your homeowners insurance won't pay for the cost of installing a new roof unless it's necessitated due to a natural disaster, they will lower your insurance premiums, sometimes considerably if you foot the bill for one on your own. That's a type of reward for being a responsible homeowner.