Life happens and when it does, insurance can be used to help protect you physically, financially, and to keep your home safe and secure. Unfortunately, after filing a claim your homeowners premium is very likely to increase. This is because your insurance company assumes you are at a higher risk of filing more claims in the future.
How Is My Home Insurance Premium Determined?
When determining the premium for your homeowners policy, agencies consider a variety of factors including the replacement cost of your home, age of home, how many people will live in the house, crime rate, and the claim history for you and your home. Information on claim history can be obtained through a Comprehensive Loss Underwriting Exchange (CLUE) report.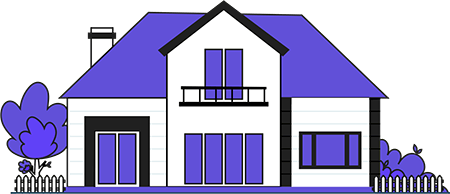 Compare Home Insurance Quotes
Save on your homeowners insurance premium by comparing offers from the best providers in your neighborhood.
CLUE Report 
Insurance agencies look at your claim filing history for one main reason: to determine if you will file many claims. The more you have used insurance, the more likely you are to use it again. The history of all claims regardless of type and size for yourself and homes can be found in a CLUE report.
These reports are also available to individuals looking to buy a home. When you go to buy a house it is wise to have a CLUE report done before you make a final and grand purchase. Knowing your potential home's history of claims can help determine if that home is a safe financial investment. If the house is in good standing, this will also help you to have a lower premium for your policy.
How Much Will My Rate Increase if I Use My Home Insurance?
How much your premium rates increase after a claim depends on your insurer, the size, and type of claim. In general, the smaller the claim, the smaller the potential increased premium rate. On average, using your homeowners insurance can increase your premium by 9-20%. This amount is based on your insurance agency and who writes your homeowners policy.
If what you are trying to get covered by insurance is far more than your deductible, it is wise to file a claim. On the other hand, if your claim is close to the cost of your deductible it is beneficial to not file a claim. This is because filing a claim will increase your insurance rates, and if there is no significant reason to file a claim, it is better not to.
In some cases, your insurer may say that filing a claim will not increase your rates. While this may be true for a particular event, all of your claims are kept recorded in the CLUE database. This may mean that later on you are penalized for having filed a claim and with your premium being higher.
How to Lower Your Homeowners Insurance Premium
Increase the amount of your deductible:  Because this means that you will take on more of the expense of any claims, your premium will be lower. This may cost more on your end if an incident occurs, but it will likely save you money over a longer period of time.
Home cost ≠ home repair cost: Buying a home is expensive and you want to see the value in it, but that does not mean that the cost of your home should be the amount of your total coverage. Make sure when setting your total coverage, that this amount more accurately reflects the value of your home and your possessions inside of it.
Protect your home: Security and alarm systems can help protect your home, but they also have the added benefit of decreasing your rates. Because you will be immediately alerted to any home invasions, fire alarms, and other incidents, you can better respond to these events before the damage is severe.
Do routine maintenance on your home: Damage that occurs in your home because of neglect towards the home's maintenance is not covered by home insurance. Routine maintenance of your home can help to catch any early on-set of problems that may later cost you thousands of dollars.
Consider your home improvements: If you have recently updated your home, reach out to your insurance agency to see if you qualify for a lower premium. You may also receive discounts based on your profession, opting for paperless billing, and having no smokers in the house.