The usual homeowners deductible is around $500—$1,000 depending on what the homeowner feels able to comfortably pay out, and there is even a $2,000 deductible that is also quite common.
Together with comprehending how various types of homeowners insurance provide your home with the coverage it requires, it's critical to understand how a homeowners insurance deductible is part of your policy. This will enable you to financially prepare for when the unexpected should occur.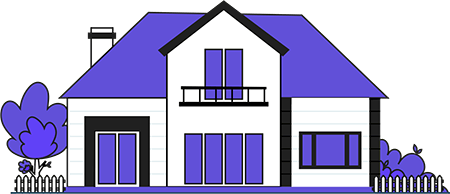 Compare Home Insurance Quotes
Save on your homeowners insurance premium by comparing offers from the best providers in your neighborhood.
What is a Homeowners Insurance Deductible?
A homeowners insurance deductible is essentially how much money you agree to pay yourself before your insurance agency will pay anything on the claim you have filed. When you are putting your home insurance policy together with the help of your agent, you will choose your deductible amount, but you will only have to pay a deductible in a case where you file a claim.
Here is some typical information about homeowners insurance deductibles, so that you will be familiar with the various types available.
Also Read: How Much Is the Average Homeowners Insurance Deductible?
Types of Homeowners Insurance Deductibles
There are plenty of types of homeowners insurance deductibles available out there, but the two that seem to be the ones usually chosen are:
Flat Deductibles
This is a fixed amount that you are to pay out of your own pocket for an insured loss. Your insurance agency will subtract the deductible from the entire amount of the claim and that is the only part of the claim you will have to pay.
For instance, if your deductible is $1,000 and you file a claim due to a violent wind storm damaging your siding and the price of repairing the damage is $9,000, your homeowners insurance company will pay out $8,000 for the claim and you will have to pay for the remaining $1,000.
Percentage Deductibles
You also have the option of having a percentage deductible, which in turn means that your deductible would be a percentage of the total amount of coverage on your policy. So, if your home is insured for $300,000 and your deductible is 2 percent, you would then have to pay $6,000 of the claim if your entire house was destroyed.
You will find that percentage deductibles are usually necessitated in hurricane, strong storm, and earthquake-prone areas with a greater chance of siding and roof damage occurring.
How to Choose Your Deductible
It comes down to this when you are choosing a deductible. If you opt for a lower deductible, you will naturally pay less should you ever have to file a claim. But it's a guarantee that you will have to pay more in premiums for a longer period of time. If you have a high deductible, you will pay a greater sum if you have a covered claim, but then your monthly premiums will be lower.
When opting for your deductible amount, consider what you can reasonably afford in the short term to the long term. Furthermore, take into consideration what your annual household income is as well, as other expenses you'll be anticipating during the year. In other words, choosing your deductible depends on what you personally can reasonably afford in the short or long term. Remember those words, reasonably afford, because they are the driving force behind your policy.
Many individuals choose a higher deductible because this lowers the amount they must pay for their premium, whereas the deductible would only need to be paid out if they should file a claim. If you do opt for that method, then give some thought to putting aside money specifically to cover your deductible if you should find that you have to file a claim. This way you have some financial backup instead of being forced to empty your savings account that you intended to use for other emergencies.
Standard Homeowners Insurance Deductible
It is usual for homeowners to opt for a $1,000 deductible (for flat deductibles), with $500 and even $2,000 also being common amounts. You can also choose higher deductibles to try and save more on your premium. Repeating the same advice as above, it comes down to what you can reasonably afford to pay as when you need to file a claim you must pay this amount out of your own savings.
There is no escaping them. Homeowners insurance deductibles apply to every claim you make, regardless of how many. For instance, if you have a $1,000 deductible and you have to make a claim for a branch that fell through your roof during a storm, which will ultimately cost $3,000 to fix, you would still need to pay $1,000 out of your own money, with your insurance agency covering the remaining $2,000.
When Is the Deductible for Homeowners Insurance Paid?
On the occasion when you file a homeowners insurance claim and it is accepted, you will receive a settlement amount, minus your deductible. This is the same for all such policies. If it turns out that your settlement amount is lower than your deductible, then don't bother filing a claim at all because you will have to pay out of your own money. A word of advice, even if you think that the damage caused to your home could possibly cost less than your deductible to repair, you should still get in touch with your insurance agent to get an exact estimate.
Certain claims are normally exempt from the deductible or have a lower deductible applied to them, such as scheduled personal property coverage claims or the Fire Department service change, but your standard homeowners insurance deductible will usually apply to almost any claim you can make.
Deductible's Effect on Your Homeowners Insurance Premium
The amount you opt to pay for your deductible will have a direct effect on the amount of your insurance premium. If you choose to have a high deductible because this will give you a lower premium, that is fine, but there is the possibility of a higher, unexpected expense occurring. The lower you set your deductible, the greater your premiums will be. However, if you file a claim you will pay out less of your own money before the insurance company will cover the claim.
Moreover, filing multiple claims over a short period of time can also have a negative effect on your home insurance premium or even result in your policy not being renewed, so always consider what you are able to pay out of your own finances before filing a claim.
You don't need to despair, however. The fact of the matter is that regardless of how high or low your deductible is, there are many other ways to save on your homeowners insurance. Just be sure that you carefully read your homeowners insurance policy before signing on with an agency. Know exactly what you are getting into in every respect, and use your common sense in setting a deductible, and you will be just fine.