What is an HO-1 Insurance Policy?
There are many types of homeowners policies available today. HO-1 insurance is the most basic form of homeowners insurance available on the market today. They are the least comprehensive policies providing the least amount coverage to homeowners compared to the other home insurance policies on available today. They are also, not surprisingly, the least used policies purchased by homeowners look for coverage of their home. As of 2019 data compiled by the National Association of Insurance commissioners, only a little over 1.6% of homeowners insurance policies utilized today is the HO-1 homeowners insurance policy.
In today's world of homeowners policies, HO-1 is so basic and provides such limited coverage that many states don't even allow it to be sold anymore. Most mortgage lenders won't accept an HO-1 insurance policy as acceptable for their lending standards. A mortgage lender will usually require the homeowner to have more protection than what is offered under the HO-1 policy in order to be eligible for a mortgage loan.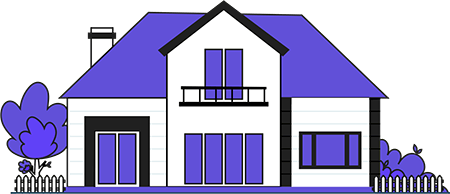 Compare Home Insurance Quotes
Save on your homeowners insurance premium by comparing offers from the best providers in your neighborhood.
While HO-1 is little used, insurance carriers still sell it on occasion. It can provide some insurance protection to a homeowner that could use coverage but may not be able to afford a more comprehensive policy, whether due to being a high risk or some other factor.
Key takeaways
HO-1 homeowners insurance is the most basic and cheapest type of homeowners insurance.
10 named perils are covered under an HO-1 insurance policy
HO-1 insurance provides coverage on an actual cash value basis
What Does an HO-1 Homeowners Insurance Policy Cover?
An Ho-1 home insurance policy covers the absolute basics. It covers far less than the typical homeowners policy used today, HO-3 policies.
HO-1 home insurance policies do cover damage to one's house or a physical structure that is attached to the house. In homeowners insurance there are two policy forms, basic form and all-risk form. The standard policy used today, HO-3, provides protection under the all-risk policy form, meaning that all perils are covered unless specifically excluded in the policy.
Being the least comprehensive coverage available, it makes sense that HO-1 home insurance would provide home insurance coverage via the basic form. This means that protection in the policy is on a named perils basis. The covered perils have to be specifically named in the policy, otherwise they will be excluded from coverage.
HO-1 provides coverage for 10 covered perils that are named with in it. These 10 are:
Fire/lightning
Windstorm/hail
Explosions
Riot/civil commotion
Damage caused by aircraft
Damage caused by a vehicle not owned by homeowner
Smoke
Vandalism/malicious mischief
Theft
Volcanic eruption
These have been deemed the 10 most important risks for a homeowner to cover.
What HO-1 homeowners insurance policies don't cover
There are much that HO-1 does not cover, including many important risks that are common across the country.
These exclusions include damage or loss caused by:
Falling objects
Weight of ice/snow/sleet
Accidental discharge or overflow of water
Sudden accidental tearing, cracking, burning, or bulging damage to a built-in appliance like hvac systems or other household systems
Freezing
Sudden accidental damage that occurs due to a power surge
Earthquakes
Floods
Many insurance carriers will offer coverage for the additional perils listed above, under a separate policy that would have to be purchased by the homeowner. Extra coverage is usually recommended if one has an HO-1 policy.
Important to note as well is that HO-1 home insurance does not provide detached structures coverage, additional living expenses coverage, or personal liability coverage for damages like medical bills or legal expenses.
There is another common piece to homeowners policies that may or may not be included an HO-1 policy and that is protection of one's personal property. We will discuss this below.
Personal property coverage and HO-1 insurance
Personal belongings are something that are typically covered under a homeowner's policy, but may or may not be covered under your HO-1 policy. There are differences in standards and coverage from insurance company to insurance company and this is one important instance of that.
It is important to protect one's personal property in the event something disastrous happens. Personal property includes things like furniture, jewelry, and more. Some insurance carriers will include personal property protection while others won't. Make sure to thoroughly read through you policy and compare between various companies. You could also ask your insurance agent to make sure that is included in your HO-1 policy.
Actual cash value vs replacement cost value protection
HO-1 policies provide protection for what the insurance company deems the cash value of the dwelling and potentially its contents are worth. This is the more basic type of claim fulfillment that companies offer. The more robust form is replacement value protection.
Actual cash value protection
When it comes to actual or current cash value protection, the company will fulfill the claim for what the dwelling or object is worth today, taking into account depreciation. There specific depreciation schedules for various types of objects as well as for dwellings that the IRS determines. The schedule that fits whatever is lost, will be used to determine what the homeowner will get from the claim. For single family homes, the value of it is depreciated over 27.5 years. This means that if damage were to occur to the home in year one, the homeowner would be awarded a larger amount through the policy then if damage were to occur in year 27.
Replacement cost value protection
More comprehensive coverage provided from policies like HO-3 or HO-5 will be on the replacement cost value basis. This means that depreciation of the home wouldn't be taken into account. The cost to replace the home will be covered. This is typically far greater protection to the homeowner.
Is HO-1 the right policy for me?
The answer today is almost always no. With only 1.6% of all policies today being HO-1, it is clear that it is seldom the right policy for an individual. There are a number of states and cities that have stopped the use of it in those areas because it provides so little protection. It isn't accepted as enough protection by most mortgage lenders today, which either forces the homeowner to purchase additional coverage or go with a different company.
It certainly isn't the right policy for a condo owner, condo association, or someone who lives out of a motorhome type of vehicle. There are other types of homeowners policies available for people in those living situations.
If a homeowner has many guests coming to their home, personal liability would be something important to protect in the case of injury to the guest to avoid paying out of pocket for legal fees and medical payments.
Conclusion
Most likely HO-1 is not the right option for you, but there are still instances where it could make the most sense to be utilized.