What is HO-6 insurance?
HO-6 insurance is the form of homeowners insurance that is intended to protect condo and co-op owners. Condo owners need a little different coverage than a typical homeowner because they own one unit within a building of individual condo units. This situation means that while yes, they own their specific unit, they don't own the units connected to theirs nor the common areas within the multi-unit complex. This situation leads to some unique circumstances if a disaster were to strike. With that in mind the insurance industry worked to create HO-6, the condo owner's insurance policy.
This form of property insurance is meant to cover the unit of the condo owners and any damages or losses that may arise to unit owners. HO-6 insurance policies are much the same as other types of homeowners insurance with some key changes to suit the owner of a condo or co-op unit.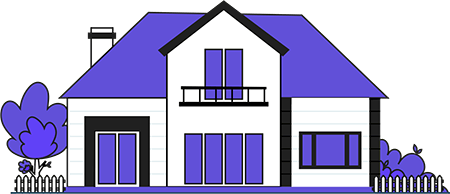 Compare Home Insurance Quotes
Save on your homeowners insurance premium by comparing offers from the best providers in your neighborhood.
HO-6 condo insurance is meant to cover one singular unit within a larger complex. It is designed to supplement the co-op association or condo association's master policy.
Key takeaways
HO-6 insurance is a named-peril insurance policy that is meant to protect condo owners. Condo policies consist of property coverages (section 1) and liability coverage (section 2).
HO-6 insurance provides coverage that is different from the HOA master insurance policy.
Liability assessment coverage is something unique to HO-6 insurance policies.
What does HO-6 condo insurance cover?
HO-6 insurance is broken own into two sections: property coverage and liability coverage. There are four subsections that make up property coverage:
Coverage A – Dwelling
Coverage C – Personal Property
Coverage D – Loss-of-Use
Additional Coverages
Liability coverage consists of two subsections :
Coverage E – Personal Liability
Coverage F – Medical Payment to Others
One should note that there is no Coverage B – Other Structures in the HO-6 condo insurance policy as there would not be any detached structures that are part of the condo's property.
There are coverage limits to each section of the policy. It is important to read through the policy to see what the exact coverage includes and what the coverage limits are in order to ensure the policy fits the needs of the condo owner. It is best to compare policies among various insurers. Policies can vary across locations and insurers in terms of coverage and the insurance cost.
Section 1- Property Coverages
Coverage A – Dwelling
This subsection of the condo policy covers any alterations and/or improvements that are done to the unit. Any structural part of the unit that would be deemed to be the responsibility of the condo unit owner.
Typical Limit: The Dwelling coverage limit is equal to the replacement cost of the property of the insured.
Coverage C – Personal property
This portion of the policy covers the insured's personal belongings whether in the condo or not.
Typical Limit: The actual cash value of the personal belongings damaged or stolen is typically the maximum amount covered. An important caveat is that personal property coverage limits may differ from company to company. Make sure to check to see what the max amount covered is in order to best meet your needs.
Coverage D – Loss-of-use coverage
This type of coverage is also known as additional living expense coverage. It is meant to cover any additional living expenses accumulated while not being able to live in one's home due to damage (staying at a hotel while repairs are completed). Typically, additional living expenses is defined as the amount of excess cost over what one's normal living expenses would equal.
Typical Limit: The standard limit to loss of use coverage is typically 20% of the dwelling replacement cost coverage limit.
Additional coverages
This section of the policies varies across policies, but generally includes reimbursement for damages like debris removal or loss assessment. Loss assessment coverage will be discussed separately as it is typically a key piece of an HO-6 policy.
Typical Limit: The maximum coverage limit can vary greatly depending on what specific additional coverage is being protected and differences in what insurers policies include.
Section 2- Liability coverage
Coverage E- Personal liability coverage
This section typically includes coverage for any legal expenses or medical bills that may arise in which the condo owner is held liable for.
Typical Limit: Condo policies generally have limits of between $100,000 and $500,000 for this section.
Coverage F- Medical payments to others
This portion of the condo insurance policy provides protection in the case of a guest being injured in the condo, even if the owner is not found to be at fault. It will pay the medical expenses for the injured person.
Typical Limit: The maximum amount covered ranges from $1,000 to $5,000 depending on location and insurer.
Loss assessment in an HO-6 insurance policy
Loss assessment coverage, which is different from loss of use coverage, is an additional coverage under and HO-6 insurance policy. It is included to protect unit owners in the event that there is damage to a common area within the homeowners association.
Generally, home insurance companies will limit condo insurance policies to around $1,000 when it comes to this type of coverage. It is common and usually best for the condo owner to get separate coverage in the form of an insurance policy that will increase the loss assessment coverage as high as $50,000. This helps the owner to avoid any issues with the condo association potentially charging an excessive amount towards the owner for any common area damage.
There are three pieces to loss assessment coverage, also called special assessment coverage: building property damage, liability assessments, and master policy deductible assessments.
Building property damage coverage
Condo associations will have a master policy that will protect the condo association in the event of any damage or loss that occurs in the common areas of the association (the entire building itself, clubhouse, etc.). If damage exceeds the limit of the condo association's master policy, they may bill the unit owner. Loss assessment coverage will reimburse what they owner is billed in a covered incident.
Liability assessments coverage
This piece is meant to provide legal bills or medical payments coverage that may be assessed to the owner of a condo unit within the condo association as whole due to the total legal fees or medical expenses being in excess of the limit of the condo association's master policy. These assessments would have to arise from someone being injured in a common area.
The most common example would be someone being injured at the community pool and then the victim or their family suing the homeowners association.
Master policy deductible assessments coverage
This piece of the coverage would stem from the condo association assess the deductible of the association's master policy to the members as well. This typically arises when the master insurance policies have high deductibles.
What named perils would result in a covered loss?
Under an HO-6 insurance policy there are 16 named perils that would be covered. These include:
Fire/Lightning
Wind/Hail
Explosion
Riot/Civil Commotion damage
Aircraft
Vehicles
Smoke
Volcanic Eruption
Vandalism/Malicious Mischief
Theft
Falling Objects
Wight of Snow/Ice/Sleet
Accidental Discharge or Overflow of Water (air conditioning, water heater, etc.)
Sudden Tearing or Cracking of Appliances
Freezing
Power Surges
What doesn't condo insurance does not cover?
A condo insurance policy covers many different instances, but there are a few instances where the typical condo insurance policy will not cover any losses. These include:
Flooding
Earthquake/movement
Power failure
Normal wear and tear
Damage that is intentionally done
Nuclear hazards
HO-6 condo policies VS. HOA master policies
The differences between these two types of policies have been sprinkled throughout the above information, but this section is meant to provide exactly what are the differences between the two coverages.
The biggest difference between the two is that HO-6 condo insurance provides individuals with coverage for their specific unit. The condo policy is meant to protect the individual who owns the specific unit whereas an HOA master insurance policy provides protection for the condo association as whole.
The two policies are meant to complement each other with the master policy covering damages or losses to any common areas and the HO-6 condo insurance covering any damages or losses within the individual unit.
The HOA master policy can vary in how much they cover. There are three distinct types of HOA insurance coverage, including bare walls coverage, walls-in coverage, and all-in coverage. It is important for the unit owner to understand which type of coverage the master insurance policy provides in order to fit their individual condo insurance policy to fit well with the master policy.
Bare walls coverage
This type of master insurance policy provides the least encompassing coverage. It provides coverage for the outside of the building, the roof, and studs that may be a part of the individual unit. It will not provide coverage for anything within the condo that only the owner uses. The name bare walls is the best way to remember what it will protect against.
Walls-in (single entity) coverage
This is the most common form of master insurance policy. It is also known as single-entity coverage. It will provide coverage for the outside of the building along with interior fixtures that were originally completed or installed. Any sort of changes to the interior fixtures that were completed by the owner of the condo is not included in this coverage.
All-in coverage
This type of master insurance policy is the most encompassing type of coverage. This type takes all that is included in the walls-in coverage and adds in coverage for any sort of changes that the owner makes to the interior fixtures of the condo.
The insurance coverage is vastly different between bare walls coverage, single-entity coverage and all-in coverage. It is crucial that the owner of the condo knows which one their condo association has implemented and then tailor their individual condo insurance accordingly. One may need to adjust the limits and/or add on further coverage.
Optional condo insurance coverages
There is optional coverage available to the owner of an HO-6 policy. There are options to increase the amount of personal property insurance coverage as well as protecting against perils such as earthquakes and floods. Something that is also available is vacant home insurance.
Vacant condo coverage
Vacant home coverage, will protect the owner if damage even though the condo was not occupied for at least 30 days. A standard policy will usually not cover any damages that occur if the unit is left vacant for 30 days or more.
More personal property coverage
When it comes to personal property coverage, the homeowner can choose to increase the value of the personal property protection up to the replacement cost, meaning not only would the actual cash value of the damaged or stolen goods be reimbursed, but the cost to replace the item would be included as well.
One can also add protection called scheduled personal property protection. What this does is provide a specific dollar amount of protection to one's personal property, should something happen to it.
Frequently Asked Questions
Is HO-6 condo insurance required?
It is not legally required to buy condo insurance nor any other form of homeowners insurance. As with other homeowners policies, condo insurance is typically required by the mortgage lender. Typically, the mortgage company will require more or less condo insurance based on what kind of master policy the association holds.
How much condo insurance one needs depends upon the form of master policy and the amount of dwelling coverage, personal property coverage, and personal liability coverage one wants to protect.
For one who is looking at coverage, it can be helpful to work with an insurance agent and the mortgage lender to determine how much coverage is needed.
How much does condo insurance cost?
According to data acquired by the National Association of Insurance Commissioners in 2019, the average condo insurance cost is around $512 per year. It is important to note that condo insurance rates can vary wildly depending on one's location.
What is Co-op Insurance?
If someone is living in a co-op, HO-6 insurance is the policy that would best apply. The needs will be similar. As when living in a condo, it is important to know what the master policy covers in order to best fit one's individual needs.
Pro Tip: Install smart security devices in your condo for extra protection against fire, theft, and gas leakages. This will not only make your dwelling safer, but many insurers will lower your premiums and give you discounts for making your condo safer. Most smart devices are cheap and they can save you serious repair expenses by alerting you of potential dangers.