HO-8 older home insurance policies are designed for homes over 40 years old, registered landmarks, buildings on the historic register, architecturally significant homes, and others. If the home is built using outdated or hard-to-replace materials, an HO-8 policy will insure it at cash value. HO-8 policies are exclusively written for owner-occupied homes and they pay out on an ACV (actual cash value) basis.
HO-8 policies are less expensive than HO-3 homeowner policies because the insurance company subtracts the depreciation once they pay for the damage. In effect, the cost is smaller than the full replacement cost and they can compensate the owners for lesser amounts. However, HO-8 insurance is available for homes that normally don't qualify for HO-3 homeowner plans. HO-8 also policies provide coverage for personal property, liability, and third-party medical expenses.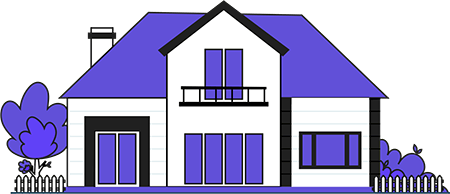 Compare Home Insurance Quotes
Save on your homeowners insurance premium by comparing offers from the best providers in your neighborhood.
How Is An HO-8 Insurance Policy Different?
The HO-8 homeowner insurance policy is written as ACV (Actual Cash Value). This makes it different than a full 'Replacement Cost' policy, which is usually available for HO-3 policies. Under an ACV policy, the cash value of the home depreciates the value of the materials that were damaged prior to paying out on your insurance claims. In effect, the homeowner is paid on the current value of the materials instead of the original value when they built/purchased the home. Example: If you buy the latest iPhone it's worth nearly $1000, but in 2 years it's worth less than $400. If your iPhone breaks down and you file a claim with the insurance company, you will receive a payout for the current cash value which is $400.
How is a "Replacement Cost" policy different? For one, it replaces the materials that were damaged at today's cost of the materials. This is irrespective of how much the materials were worth at the time the house was damaged or destroyed. If we use the iPhone example above, this means that if your HO-8 policy is written at a "Replacement Cost", you will be entitled to the full $1000 value instead of only $400. Fortunately, there are HO-8 policies which can be written under full replacement cost. Consult your insurance agent to inquire about the full replacement cost for your historic property.
HO-8 Policies Are Always Unique
The fact that HO-8 policies are written for historic homes and unique buildings means that the coverage and policy terms vary by the building. You may have a Spanish home in the Florida Keys that was built in the 1700s or a Victorian in Boston that was built in 1865. These all require individual attention and estimates to qualify for an HO-8 replacement cost policy.
Note: If the building is in bad shape or of a very unique architectural style, the insurance companies may refuse to write an HO-8 policy even at cash value. The state of the property is what dictates the premiums on the HO-8 insurance policy.
HO-8 Older Home Insurance: What It Covers
HO-8 insurance policies cover the same basics as HO-3 and other homeowner insurance types. The following are included:
Your Historic Home
The main home/dwelling is insured and this includes the surrounding side structures (attached or detached). Repairs and replacement are covered. However, keep in mind that the coverage in the event of a total loss when replacement is required is not going to amount to the full replacement cost but to the actual cash value. Consult with your insurance agent to change this to replacement cost. HO-8 policies generally do not cover you for as many perils as HO-3 policies do.
Side Structures
There are other structures on your property such as tool sheds, garages, fences, guest houses, etc. These are also included under the main insurance policy. Keep in mind compensation for side structures is capped at a certain % such as 10% of your total limit (depending on the insurance plan).
Personal Belongings
All personal belongings in the home are covered. If you have to replace items such as clothes, furniture, appliance, etc, they will be covered under the insurance plan. If you have valuables in the home, you have to insure them separately. This includes items over $1000 in value such as jewelry, art, firearms, and more.
Living Costs
In the event of a total loss, if you're forced to move out of your home to a new residence while your home is rebuilding the insurance company will pay for your living costs. This "loss of use" policy covers you for the transport, lodging, and food expenses. It also covers you for your mortgage payments. Example: If your mortgage payment is $900/month and you pay $1200/month for the new rental, the insurance company will pay $2100 + other living costs up to a certain limit.
Medical Coverage
If any guests are injured on the premises of your home, they are entitled to basic medical compensation. However, this is usually limited to $5000 per person and it may not be enough to cover their medical stay. This coverage is not a replacement for medical insurance.
Legal Liability
As an HO-8 policyholder, you are entitled to a certain dollar amount for all possible lawsuits if you're brought to court. Legal liability is affordable on homeowner plans (including HO-8) which is why you can raise the limit to be fully protected. If a neighbor presses charges because one of your trees falls over and damages something on their property you can tap into your legal liability fund to go to court.
HO-8 Older Home Insurance: What It Does NOT Cover
There are certain things HO-8 policies will not cover due to the nature of historic homes. The following are NOT covered:
Falling Objects
While falling object coverage is a peril included in HO-3 plans by default, it is not included in HO-8 policies. This is because the structure of historic/older homes is not deemed as sound as newer homes and they are more prone to collapsing. Example: If a tree falls on your roof during a hurricane, the insurance company can refuse to pay for the damage. Falling object damage can be added as a separate policy on your HO-8 plan.
Land Movements
Land movements such as earthquakes and landslides are not covered under an HO-8 insurance policy. However, similar to falling objects they can be added to your insurance policy. Check whether your home sits near a fault line.
Flooding
Most HO-8 policies do not include coverage for flood damage. It is possible to purchase a separate flood insurance policy for your HO-8 plan but insurers might still refuse to insure you if you live in a state where flooding is common. The only alternative is to purchase insurance from the National Flood Insurance Program.
Water Damage
Water damage caused by internal infrastructure breakdowns such as burst pipes and clogged drains is not covered in historic homes. Even though HO-3 policies cover water damages, HO-8 policies usually leave it out.
To Summarize
The following are the most important points about HO-8 insurance plans:
HO-8 plans are available for older homes – at least 40 years old, and sometimes centuries old.
Many perils are excluded such as falling objects, water damage, and earth movement.
The owner receives compensation in ACV (actual cash value) instead of "Full Replacement" cost which can drive down the payout in the event of a total loss.
HO-8 plans can be customized to be "Full Replacement" cost.
HO-8 plans do not cover you for perils such as falling objects unless you specifically ask for them.
The bottom line is that an HO-8 policy can be customized to suit your property if you don't have many options and the property does not qualify for an HO-3 plan. HO-8 policies can be a good choice for older homes, homes on the historic register, and homes with unique architectural characteristics.