Well, here's a straight answer to that question. Depending on the insurance agency you have chosen, a home insurance claim will ordinarily stay on your record for anywhere from 5 to 7 years. Homeowners insurance protects your home, personal possessions, and property when they are damaged or lost under the terms of a covered loss, or covered peril. The more claims you have on record, the more difficult it will be for you to find reasonably priced, credible coverage.
While filing claims are the essential purpose of your homeowners insurance, and the way in which you benefit from it, there's a condition attached: claims frequently remain on your record anywhere from 5 to 7 years. If you are applying for coverage with a new insurance company and they notice that you have multiple claims listed on your record, then they may charge you more money or even deny you coverage completely.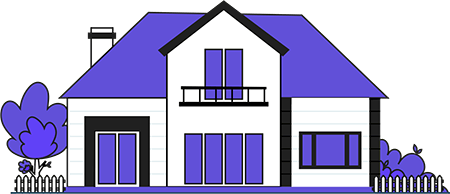 Compare Home Insurance Quotes
Save on your homeowners insurance premium by comparing offers from the best providers in your neighborhood.
So Exactly How Long Does a Home Insurance Claim Remain On Your Record? 
As stated above,  home insurance claims can stay on your record for 5 to 7 years, but the precise time depends upon the insurance agency pulling up your claims history. The actual amount of time can also be dependent upon the kind of damage that was reported. Furthermore, claims that were filed by the owners who had your home prior to you buying it can also make an appearance on your claims history.
At the time you apply for home insurance, most insurance agencies will obtain access to your claims history from the past five years through the use of a database like the Comprehensive Loss Underwriting Exchange, or CLUE. Depending on the type of information they find listed in your CLUE report, an insurance agency may fix your rates higher or simply deny you coverage.
Also Read: How to Check Home Insurance Claim History
Your CLUE report may also have claims from prior owners if they lived in the home during the past five years. Reliant upon the nature of those prior claims, an insurance company can decide that your home or the area where it is located is at a greater risk for specific types of losses and this could cause you to be fixed with a higher premium. Remember that insurance companies are in the business to make money, not lose it, so if you have a history of substantial claims, then you can expect that possible insurers will set higher premiums for you because of the likelihood that you'll continue to file even more claims.
How Claims Affect Homeowners Insurance
By filing numerous claims you can affect your homeowners insurance in two important ways: they can cause your rates to rise and they can make it harder for you to purchase homeowners insurance later on.
It is a simple business fact that when you obtain homeowners insurance quotes, the rates you are expected to pay will be partly determined by your claims history and how likely you are to file another claim. And yes, you can be denied coverage if the number of claims exceeds the maximum number set by each company.
Also Read: How Many Claims Are Allowed in Home Insurance
Together with the prevalence of claims, insurance agencies will also examine the kind of losses your home has undergone. Claims that are related to theft, water damage, and dog bite liability are going to have a greater effect on your insurance rates than losses caused by weather.
Usually, you'll learn of claim-related rate increases at your yearly policy renewal. If you note that your rates have risen since your last policy term, be certain to ask your insurance agent to provide a reason.
How to Prevent Your Homeowners Insurance Rates From Rising After Filing a Claim
Rather than rushing to file a homeowners insurance claim, first think it over. Ask yourself if it isn't something you can cover the cost of on your own with a couple of months worth of savings. The general rule is that if the loss or damage is near the amount of your deductible, it's probably not worth filing a claim.
Also Read: How Much Do Homeowners Insurance Claims Increase Premiums
For instance, if your homeowners insurance deductible is $1,000 and you have a damaged septic tank and the estimated cost for repairing it is $1,100, then you'd only be compensated for $100 once you have paid your deductible. In this case, $100 in savings is not worth risking the possible rate increase at your next policy renewal.
However, homeowners insurance exists for a reason, and frequently filing a claim is simply something that cannot be avoided. Should your rates rise after filing a claim, or you find out at renewal that you rates are going up, it's likely an excellent time to shop for better homeowners insurance coverage. You just might be able to obtain the very same coverage for a lower rate, despite the fact that you have a claim on your record.
While homeowners insurance claims can remain on your record for 5-7 years, and thus increase the amount of your insurance premium, all is not over just yet. You always have the alternative of doing a little research and finding out if you can find an insurance company that will give you the same amount of coverage for a much lower rate. However, this is why it's always best not to file frivolous or unnecessary claims. Each claim that is entered on your record is going to have a lasting effect on your insurance rate in the long run.