How much condo insurance you need depends on what your H.O.A. (Homeowners Association) covers, structural rebuilding costs, the value of your personal property, the value of your assets, and whether you need coverage for living expenses if your home becomes uninhabitable.
To calculate how much coverage you need, follow the below steps: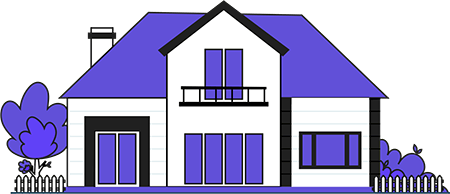 Compare Home Insurance Quotes
Save on your homeowners insurance premium by comparing offers from the best providers in your neighborhood.
Find Out What the HOA's Policy Covers
Your monthly homeowners association dues go partly towards insurance that reduces how much coverage you need personally. However, the association's insurance only covers certain expenses and the extent of the protection depends on the individual association. Review the association's bylaws and master insurance policy to determine the split between your insurance and the association's coverage.
Generally, H.O.A. insurance is one of two types:
Bare Walls In  
Bare walls in policies cover just the exterior structure of the building. If your association has this type of policy, you must cover all the interior contents of your home, including appliances, personal belongings, bathroom/kitchen fixtures, and flooring.
All In
All in policies protect the exterior and structural interior contents of your building, such as appliances, personal belongings, bathroom/kitchen fixtures, and flooring. You just need to cover your personal possessions.
Once you know the master policy type, you can total the value of what you are responsible for replacing in a loss to determine your homeowners insurance limits.
However, note that all in policies usually exclude any improvements you made to your living space. Therefore, if you complete renovations, you may need to raise your insurance limits.
Estimate the Value of Your Personal Items
Condo insurance pays for the replacement of personal items damaged or destroyed in a covered event, such as a fire or pipe burst. It also covers items stolen in a burglary. To determine your personal property limits, take an inventory of your personal possessions. 
Before choosing a policy, find out if it pays the cash value or replacement cost. Cash value policies pay what the item is worth when sold, which is generally less than the replacement value. If you opt for a replacement value policy, you'll be reimbursed for the cost of replacing destroyed items.
Also, be sure to note if you have any expensive items that require separate insurance coverage. Standard homeowners policies offer no coverage for expensive jewelry, art collections, precious metals, and other unusually valuable goods.
Consider Liability Limits
Homeowners policies provide coverage in case you face a lawsuit. For example, if your dog bites a person or a guest suffers injury on your property, you may face an expensive lawsuit. Your condo insurance policy provides protection for the liability amount and legal expenses up to your coverage limits.
If you have a large amount of assets, such as securities, precious metals, or rental properties, consider increasing your liability coverage with an umbrella policy, which provides limits of over $1 million.
Estimate Additional Living Expenses
What would happen to you if an event suddenly rendered your condo uninhabitable? Would you need to live in a hotel, buy your meals out, and pay more for transportation? Homeowners policies cover these expenses. To determine the amount you need, estimate the daily and weekly cost of living you would face.
Condo insurance provides valuable protection. You invest an enormous sum of money in your unit, including mortgage, HOA dues, taxes, and improvements. In addition, you have probably spent a small fortune acquiring the contents of your apartment. You need to insure these valuable assets.
Homeowners policies cover everything your HOA's master policy excludes. By taking out the proper amount of coverage, you prevent yourself from suffering a terrible loss should your unit be severely damaged or destroyed.