The value of a sense of security may be priceless, but security systems can also provide the added benefit of saving you money on your home insurance policy. While the discount you may be eligible for varies, you can receive up to 20% off your homeowners insurance policy by having a security system in your home.
Home Security Measures
The average amount a household saves by having security measures in place is between 2-5%. This can include safety measures like having deadbolts on your exterior doors, which is likely something you have in place already. Beyond a home security system, other security measures include: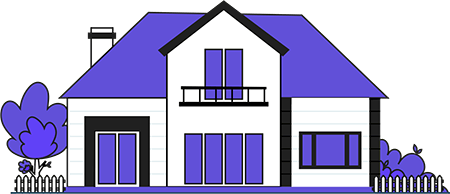 Compare Home Insurance Quotes
Save on your homeowners insurance premium by comparing offers from the best providers in your neighborhood.
Burglar alarms: Monitors windows, doors, and other ways of entering a house.
Deadbolts: Provides further strength to keep your door locked.
Living in a gated community: Limiting who is allowed to enter your neighborhood helps to eliminate crime and theft.
Any security measure has the potential of saving you money, but to receive higher discounts that are between 15-20%, a more intensive security system is likely needed. Often these security systems provide more protection including 24/7 monitoring, smoke detection, flooding detection, door control, and other measures. The best way to limit damage from happening is to have a safe and maintained home, but the next best way to limit the damage is to be aware when it first starts.
Smoke detectors and door alarms can alert you to potential fire and other dangers. Even in the worst-case scenario of there being a house fire, being aware of it early on can prevent further fire and smoke damage from occurring. In the same regard, being alerted to any peril when it first starts to occur can protect you and your home physically and financially.
Other Benefits of Having a Home Security System
According to the National Association of Insurance Commissioners Report from 2021, the average homeowners insurance policy costs  $1,249 per year or $104.08 per month. It is estimated that homeowners with security measures and systems in place save around a hundred dollars a year on their insurance premiums. While this amount is not enough to warrant getting a security system for the insurance discount, there are many other benefits to purchasing a security system for your home. Other benefits include:
Sense of security: Going through any major event can be stressful, especially if they are damaging to your family or own. House fires, burglaries, and other perils can cause a great deal of stress. While your security system may not stop these from completely happening, they can help to mitigate the damage. 
Deterrent of burglars: A security system isn't going to stop a fire from happening, but it can deter criminals. Most crimes are done out of convenience and are not premeditated. Bypassing a security system isn't convenient for a criminal, so much so that homes without security systems are three times as likely to be broken into.
Shorter arrival time of emergency personnel: When security systems have monitoring, they will immediately respond to any perils. If your smoke detector is going off and you are not home to stop it, the fire department will be called and dispatched in a matter of minutes.
Popular Home Security Systems
There are many home security systems to choose from. Popular and fairly affordable security providers include Ring, Simplisafe, ADT, Vivint, and Cove. The location of where systems can be installed is limited to the company, but most companies provide coverage in accessible locations. Each company varies in its level of coverage, price, and protection, but when in doubt some level of protection is better than none.
How to Check if I Already Receive a Discount on My Security System?
Chances are when you first moved into your home you didn't immediately install a home security system. If you did then any discount you are eligible for is probably already in place on your premium. To check to see if you are currently receiving a discount for your security system, look at your policy declarations page. If you do not have a discount in place and you think you are eligible for one, contact your insurance provider.
Also Read:
Does Home Insurance Cover Stolen Items?
Does Homeowners Insurance Cover Catalytic Converter Theft?
Does Homeowners Insurance Cover Bike Theft?