Trampoline accidents result in tens of thousands of emergency room visits across the country each year. Not surprisingly, homeowners insurance companies know this and charge a higher premium to cover trampoline accidents. On average, trampolines increase premiums by $50 to $100. In addition, some insurers recommend trampoline owners carry at least $50,000 to $100,000 above the average policy limits for your home's value.
How much a new trampoline affects your home insurance depends on the company. Some insurers accept insuring trampoline at an added cost. But other insurers may refuse to cover trampolines. If you have the latter type of insurer, you must either accept trampoline-related claims being excluded or find a company that covers them.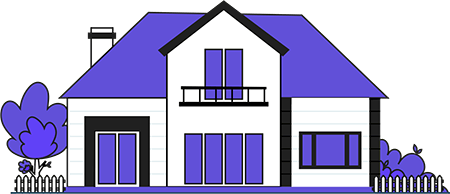 Compare Home Insurance Quotes
Save on your homeowners insurance premium by comparing offers from the best providers in your neighborhood.
The key thing is to let your insurer know you have a trampoline to ensure it is covered. Even if your insurer covers trampolines, any claim for a trampoline-related accident will be denied if you fail to inform them and pay the cost of trampoline coverage.
In addition, you want to have insurance for the trampoline itself. For instance, imagine if it was damaged or destroyed in a windstorm. If you neglect to cover the trampoline through your homeowners insurance, you may receive no compensation for its replacement. Also, consider whether you want to cover the trampoline for the replacement value, which provides you with funds for a new trampoline, or the actual cash value, which pays only what a used trampoline is worth.
Insurance Companies Cover Trampolines Differently
Insurance companies generally take one of three approaches to covering trampolines:
Your Trampoline Is Always Covered
Your trampoline is covered under specific circumstances
Your trampoline is always excluded from coverage
Your Trampoline Is Always Covered
If your policy has no exclusions, your trampoline is covered for accidents or damage. For example, suppose your child's friend is bouncing around and hurts his or her knee. In that case, your policy's personal liability and medical payments coverage will pay for medical bills and any legal expenses.
Additionally, if your trampoline suffers damage from a covered event, such as a storm, your personal property coverage will help repair or replace it. However, if an uncovered event, such as an earthquake, destroys your trampoline, a standard homeowners policy won't pay for it. You would need special earthquake insurance for that.
Your Trampoline Is Covered Under Specific Circumstances
Some companies may only cover a trampoline if you meet certain conditions for coverage. For example, some insurers require you to surround the trampoline with safety netting or enclose it with fencing to prevent unauthorized use. Without these safeguards, the insurance will not cover the trampoline.
Fully Excludes Trampoline
Some insurance companies refuse to cover trampolines, even if you utilize safety devices. Insurers usually treat trampoline exclusions in one of two ways: 1) The policy simply excludes the trampoline for damage and liability 2) The company refuses to write the policy at all because of the trampoline.
If you want a trampoline and your current insurer doesn't allow or cover them, you have little choice except to search for a new company. When shopping for a new insurance provider, remember that a new policy requires updated underwriting, a new inspection, and increased rates if the trampoline is new.
Trampolines provide hours of family fun. What kid doesn't love jumping up and down on one in their backyard? But from a homeowners insurance perspective, trampolines present some complications. Some insurers refuse to cover them. The ones that do charge an increased premium because of the increased liability. Though it comes at an extra cost, you can have the peace of mind of knowing your trampoline and any liability resulting from it are fully covered.