The average homeowners insurance deductible sits at $500. However, dollar-denominated deductibles range from $500 to $4,000. Also, some policies, usually those written for properties in high-risk areas, use a percentage deductible, often 10% of the home's value.
Why Do Homeowners Insurance Deductibles Vary?
Deductibles for homeowners insurance vary because of the differing risk levels of properties and buyers' choices. Some insurance customers prefer a low deductible to reduce the out-of-pocket costs if they file a claim. This makes sense for policyholders on tight budgets with a higher risk of suffering home damage. Other customers prefer a high deductible, even several thousand dollars. Higher deductibles make sense for consumers with robust liquid assets who feel filing a claim is unlikely.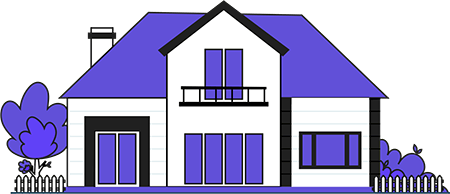 Compare Home Insurance Quotes
Save on your homeowners insurance premium by comparing offers from the best providers in your neighborhood.
Also, insurance companies specify large deductibles for high-risk properties. For example, a home located in an area prone to forest fires and mudslides may be insurable only with a high deductible. In this case, the insurance company may require a deductible of 10% of the home's value. So if the home costs $500,000, the minimum available deductible is $50,000. For this reason, it pays to know if a property is a high risk before purchasing it.
Specialty catastrophe insurance, such as earthquake and flood insurance, usually comes with percentage deductibles that are 10% or more of the home's value, another reason to research the types of natural disasters possible in a property's region before buying.
How Do Homeowners Insurance Deductibles Work?
Home insurance deductibles work the same as auto- or healthcare insurance deductibles. The dollar or percentage amount applies to each claim individually. For example, if you have a $500 deductible and suffer a loss from a fire and a burglary, you pay $1000 out of pocket. For those with a 10% deductible who suffer two losses, their total out-of-pocket cost equals 20% of their home's value.
Because lowering deductibles often results in unaffordable premiums, most homeowners need to opt for at least an average-sized deductible. As a result, it's essential to have some cash savings available if you must meet one or multiple deductibles. If the large deductibles required for high-risk properties are beyond your means, you may want to consider purchasing a home in a different area.
Disaster Deductibles
Some homeowners insurance policies require a separate deductible for specific disasters, including hurricanes, wind, and hail. These are similar to the separate deductibles health insurance companies apply to prescription drugs or certain types of treatment.
Hurricane Deductibles
When you live in a hurricane-prone region, your homeowners policy may provide coverage for this type of storm damage but with a separate, higher deductible. For instance, you may opt for a $500 deductible, which applies to all covered events except hurricanes. The contract may then stipulate that the deductible for hurricane damage is 10% of the home's value.
Wind/Hail Deductibles
Even if you live in an area not prone to gigantic natural disasters like hurricanes, your insurance company may write your policy with separate, higher deductibles for wind or hail damage. These events are highly unpredictable, so insurance companies often charge larger deductibles to cover them. In addition, certain areas, such as the Texas and Midwest, receive relatively large numbers of these types of claims, so some insurance companies increase deductibles for them in those areas.
Choosing a suitable homeowners insurance deductible is an important financial decision. You want to find the right balance between an affordable deductible and a premium that fits comfortably into your budget. A $500 deductible is the most popular, but if you can afford a higher deductible and want to lower your premiums, a higher deductible option may be the better choice. However, some policies require extremely high deductibles for properties in high-risk areas, so it pays to research deductibles before committing to purchasing a home.