There comes a time in everyone's life when they have to say goodbye. Whether it's a relationship, a job, or a home insurance policy, sometimes it's just time to move on. If you've decided that it's time to cancel your home insurance policy, then you're in the right place.
In this blog post, we will talk about the process of canceling your policy and what you can expect along the way. We will also provide some tips for making the process as smooth as possible. So sit back, relax, and let us teach you how to cancel your home insurance policy!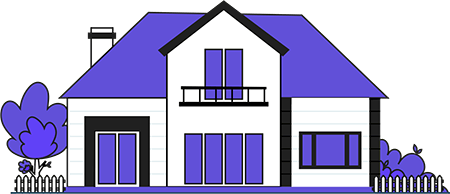 Compare Home Insurance Quotes
Save on your homeowners insurance premium by comparing offers from the best providers in your neighborhood.
Why Do People Cancel Their Policies?
One common reason people cancel their home insurance policies is that they feel they no longer need them. Most people purchase home insurance when they first buy their house, and then let the policy lapse when they feel comfortable that their investment is secure. However, home insurance is not just for protecting your home from damage; it also protects you from liability if someone is injured on your property.
In addition, most mortgage lenders require borrowers to carry home insurance, so canceling your policy may put your loan at risk.
However, in most cases, it's important to understand that you need to own your home in order to be able to cancel your home insurance policy. So you will need to have already paid off your mortgage or purchased your home with cash.
Another reason people cancel their home insurance is that they feel it is too expensive. While premiums can increase over time, there are typically discounts available for things like installing security devices or smoke alarms. In addition, many insurers offer bundled discounts if you have multiple policies with them. Finally, some people cancel their home insurance because they are moving to a new house that is already covered by a policy.
Force-Placed Insurance
If you're considering canceling your home insurance policy, there's something you should know first. Your insurance company will most likely give you something called force-placed insurance. It's an insurance policy with expensive premiums and very little coverage.
So, unless you're looking to spend more money for less protection, it's better to simply switch to a better home insurance policy. With so many great options out there, there's no need to be stuck with force-placed insurance.
Canceling Your Policy
Get Quotes and Compare Options Before Canceling
If you're feeling like it's time to cancel your home insurance policy, the first step is to get quotes from other insurers and compare their rates. You may be surprised to find that there are companies out there that can offer you a better rate than your current insurer. Once you've found a company with a rate that you're happy with, it's time to begin the cancellation process.
Prepare Documents
Once you've decided to cancel your home insurance policy, the next step is to begin preparing the necessary documents. You will need to provide your current insurer with a written notice of cancellation, as well as your new insurer's information. In addition, you will need to inform your mortgage lender of the change so that they can update their records.
Contact Your Current Insurer and Give Them Notice
Most home insurance policies have a clause that requires policyholders to give their insurer advance notice of cancellation. This is typically 30 days, but it can vary depending on your insurer.
The best way to cancel your policy is to call your insurer and speak to a customer service representative. They will be able to walk you through the process and answer any questions that you may have. In some cases, you may be able to cancel your policy online or through the mail. However, it's always best to contact your insurer directly to avoid any confusion or misunderstanding.
Steps After Canceling Your Policy
Once you have given notice, the insurance company will cancel your policy and send you a refund for any unused premiums so keep an eye out for that. And after you've canceled your policy, your coverage will end on the date that you specify. Again, if you have a mortgage, be sure to notify your lender as soon as possible so that they can arrange for alternative coverage.
If you experience any problems with your insurer during the cancellation process, don't hesitate to contact your state's insurance commissioner for assistance.
Conclusion
Canceling your home insurance policy doesn't have to be a stressful experience. By following the steps outlined in this blog post, you can cancel your policy with ease. And once you've canceled your policy, be sure to shop around for a new one to get the best rate possible.