Insurance companies report homeowners claims history to the Comprehensive Loss Underwriting Exchange (CLUE) database, a repository compiled by Lexis-Nexis that records past claims under property addresses and the insured's name. You can access your personal CLUE report and the property history by contacting Lexus-Nexis by phone, mail, or online.
You can contact Lexis-Nexis through these channels: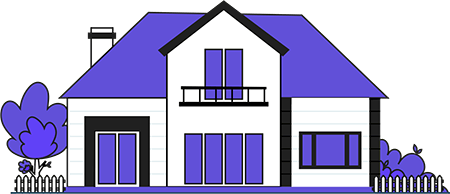 Compare Home Insurance Quotes
Save on your homeowners insurance premium by comparing offers from the best providers in your neighborhood.
Call: 888-497-0011
Email: consumer.documents@lexisnexisrisk.com
You could also request a copy from a homeowner
How CLUE Reports Work
CLUE reports serve a similar function to credit reports. Before a lending institution grants a loan, it needs to research the applicant's credit history. This history tells the company if the potential borrower is a good, moderate, or poor credit risk. Then, based on the applicant's payment history and other factors, the lender decides on the appropriate interest rate given the risk posed by the borrower. In some cases, the lender may decline the loan.
Insurance companies use a similar process to determine whether to approve an application and what premium to charge. In making these decisions, the insurer factors in both the claims history of the property and the applicant. If the property or potential insured has extensive, costly claims histories, the insurance company may decline the application or charge a higher premium.
Why You Should Check the CLUE Report Before Buying a Home
Many homebuyers neglect to check the property's CLUE report before committing to a purchase. This is a dangerous practice that can leave you with unexpectedly high insurance premiums or an uninsurable home. Imagine if you had to pay twice the premium expected, or you were turned down for homeowners insurance by all mainstream companies?
If the property has a history of expensive claims, these are real possibilities. Often, homes fail to qualify for insurance because of their location. For example, a property prone to flooding or tornadoes may be uninsurable. You need to know the status of a home's insurability before purchasing because it may affect your decision to move forward with a contract and the price you are willing to pay.
Do You Have Options for an Uninsurable Home?
Thankfully for those who buy properties prone to disasters, state governments have established high-risk homeowners insurance pools. Known as Fair Access Insurance Requirements (FAIR) programs, these pools insure risky properties against disaster, but they often come at steep premiums. For example, a home in an area where mudslides occur may be insurable only through FAIR programs at twice the average premium for similar properties in the area.
Why Should You Check Your Personal CLUE report?
CLUE reports on your personal claims history also impact your insurance premiums and insurability. For example, if you have a track record of liability claims, insurance companies may charge you a higher premium or reject your application. If you cannot find a homeowners policy through a mainstream insurer, you may pay staggering premiums through a high-risk pool.
As with credit reports, you can dispute information contained in the CLUE database. Erroneous claims histories can cost you in premiums or leave you without insurance, so it's worth the time to correct any factual inaccuracies. In addition, you can submit a statement of explanation for any claims. For instance, if you had a dog bite claim, you may explain that you no longer have animals.
CLUE reports have a major bearing on insurance premiums and the insurability of both property and homeowner. To avoid surprises, it's always wise to check the CLUE report of any home you are considering purchasing. In addition, be sure to verify that all the information on your personal CLUE report is accurate. As with a credit report, the information contained in the CLUE database has a large impact on your finances.
Also Read:
How Many Claims Are Allowed in Home Insurance
How Much Do Homeowners Insurance Claims Increase Premiums