Disaster has struck, and now you have to have a part of your home outright replaced, alongside your possessions. How will the value for these things be calculated by your homeowners insurance company? The method used is will actually be defined in your policy, and it will influence the cost of your home insurancepolicy, since different methods yield different results. The most common method is known as replacement cost value. Replacement cost value refers to the current cost of replacing your property. Other options include actual cash value, extended replacement cost value, and guaranteed cost value.
Replacement Cost Value Is the Most Common Valuation Found on Policies
Chances are that your policy calculates the cost of home replacement using replacement cost value. This is because it provides a good value to the insuree, while also limiting how much cost your home insurance provider will be liable for. Generally, the replacement cost will be however much it takes to repair or replace the part of your home that was destroyed, up to a certain limit. This limit will change from policy to policy, however, typically it's the value of your home, minus the cost of the land itself. This might sound like enough, but there are many instances where it isn't.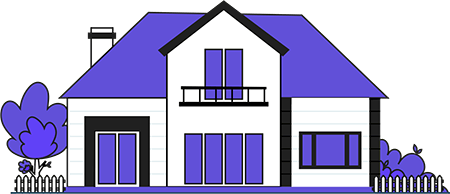 Compare Home Insurance Quotes
Save on your homeowners insurance premium by comparing offers from the best providers in your neighborhood.
Compensation Using Replacement Cost Value Doesn't Factor in the Current Price of Materials and Construction
If you're just replacing a part of your home, or if it's a freak accident, your typical replacement cost value might be good enough. The catch is that the replacement cost value doesn't factor in the cost to rebuild your house now, as opposed to when it was built, which means that if the cost of materials or construction has gone up since your house was built, then your typical replacement cost value simply won't cut it. To combat this, your insurance company will likely offer an alternative valuation, known as an extended replacement cost, which will include the cost of your home, plus an additional negotiated percentage, typically somewhere between 10% to 50%.
Sometimes, Even an Extended Replacement Cost Might Not Be Enough
There are situations where even having an extra 50% of your home's value will not be sufficient to replace everything. For instance, if your entire neighborhood suffers a devastating fire after a lightning storm, and many homes in the area get destroyed, the cost of construction and materials will rise to an amount that can far exceed 150% of the initial price you paid to construct your home. For situations like this, your insurance company offers the guaranteed replacement cost value, which will cover the cost of replacing your house, no matter how much it costs. The only catch to the extended replacement cost and guaranteed replacement cost is that they will drive the price of your insurance up, however it can be worth it if you live in an area that is prone to disasters covered by your insurance.
The Cheapest Option Is the Actual Cash Value
Replacement cost value is the default, but another valuation method is known as actual cash value. The actual cash value is calculated by taking the initial value of your house when it was constructed, and then figuring out the depreciated value. The depreciated value of your house factors in the costs associated with time, since the materials of your house are subject to wear and tear and aging, which lowers the values over time. Thus, the amount your insurance pays from the actual cash value of your house will almost always be less than what you paid to have it built in the first place, however in exchange the amount you pay your insurance decreases. This option is rarely ever worth it when it comes to rebuilding a destroyed house, which is why replacement cost value tends to be the default option.
Your Personal Property Tends to Be Valued at Actual Cash
If you have personal property that has been destroyed, your policy will likely dictate that the actual cash value of the personal property is used when estimating compensation. You can get more coverage for your items by getting what's known as a scheduled personal property endorsement, which will increase the amount compensated for your personal property. Which type of valuation you should use for your personal property and your home is highly dependent on where you live, and the different risks found in your region. It's always good to review your policy and understand what is covered, and why.