The job of a home insurance adjuster is to look for any type of structural damage to your main residence, but other types of potential losses, for instance, a damaged shed or carport, should be called to their attention as well. Regardless of what it is, do not dispose of anything until the home insurance claims adjuster has recorded it.
Negotiating with Insurance Adjuster
You should immediately contact your homeowners insurance agency when your property has been damaged due to a house fire or other risk that is covered by your home insurance. You will be required to reply to questions from your insurer that will help you in dealing with the insurance adjuster they send out. For instance, prior to the adjuster arriving, your homeowners insurance provider may ask you to collect information pertaining to the construction of your home.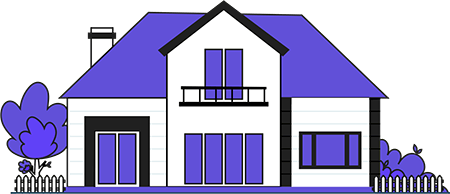 Compare Home Insurance Quotes
Save on your homeowners insurance premium by comparing offers from the best providers in your neighborhood.
It's also possible that your homeowners insurance will require you to file a filing with your local fire department or sheriff's office if the peril you have experienced was caused by a house fire. Make absolutely certain that you submit copies of any documentation about your loss made by the sheriff's office or fire department. Keeping these records readily available as evidence of the damage your property sustained will enable you to give a complete account of the incident which occurred to your insurance agency.
When an insurance adjuster comes to your property, it will be for the purpose of collecting information about the severity of your loss. This will only happen after you have spoken to your agent. The adjuster's determination of the extent of the damage you have suffered will decide the amount of compensation you will receive. You do not have to be there during the investigation, but it is usually a good idea so that you can be certain that the adjuster doesn't miss any damage.
What Steps to Take After Insurance Adjuster Has Visited
Once the adjuster has left, you will be permitted to request any details that you consider relevant to your claim, however, this must be done within a time frame stated in your insurance policy. If you are forced to leave your home, you will need to submit the amount of compensation you are requesting, as well as an account of the loss, an inventory of missing or damaged personal belongings, receipts for extra living expenses, and specifications for damaged buildings. 
Have an Itemized List Readily Available
You will be required to supply details about the damage that has been done to your home. To accomplish this you need an itemized list of your belongings. What exactly you own and how much it is valued at can be noted in an itemized list. 
Insurance agencies are required to replace or give you a similar item for what you have lost. This is why if you are able to provide an insurance adjuster with accurate details about your property, you can help make greater the chance of being paid in full for your loss.
Maintain a List of Adjuster Meetings
One of the most important things you can do when you are given an insurance adjuster is to record your meetings in a spreadsheet or report. You should keep a record of the date and time of your meetings, plus a short description of what exactly has been said.
Obtain electronic or paper copies of any comments or records that your adjuster makes if this is possible. All of this will help you to keep your mind clear during the time your case plays out.
Avoid Making False Claims
Keep in mind that it would definitely have a bad effect on your coverage if you were to make false claims to the adjuster. If you decide to lie to the adjuster and are caught, your homeowners insurance has a clause that keeps you from receiving any reimbursement. Also, in the worst-case scenario, you could be sued for committing insurance fraud.
Comprehend Exclusions
If you are in doubt as to what your homeowners insurance policy covers, especially when pertaining to damage to your property, you may unintentionally setback your claim. You need to be sure that you understand the meaning behind the terms you are using and the consequences if you should wrongly word part of your claim.
Do Not Admit Blame
While you must keep from outright lying, you should also be careful not to make claims that indicate that you are in any way responsible for the damage inflicted on your house. This is because the insurance contract does not provide reimbursement for property damages sustained due to something that was your own fault.
What is to be learned from all of the above is that a home insurance adjuster is sent out by your insurance agency to examine your entire loss, and if need be, you can and should point out to him things that he may have missed. It is also essential that you get in touch with your insurance agency as soon as possible once you have sustained a loss and report it. Lastly, be well informed about your homeowners insurance policy and what it contains within it. If you can do all of this, plus what is listed above, then you should be just fine when you deal with your insurance agency's home insurance adjuster.
Also Read: