The foundation of your home is essentially the concrete base upon which your house sits. This is covered by homeowners insurance just the same as any other part of your home, however, there are certain specifics that must be met.
All houses require a strong, solid foundation in order to prevent groundwater from coming in, help keep the home insulated, and protect the structure from any potential damage caused by what is called natural earth movement. This is why, for a homeowner, finding out that you have a problem with your home's foundation can be absolutely terrifying. Whether it's a small repair or a huge one, it can still end up costing you a bundle.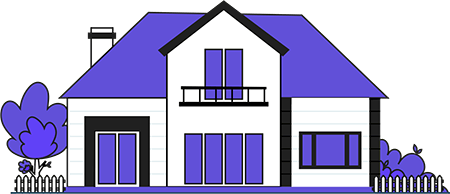 Compare Home Insurance Quotes
Save on your homeowners insurance premium by comparing offers from the best providers in your neighborhood.
So your homeowners insurance will cover the foundation of your house, however, you have to be aware that this is only against certain specific risks. The basic causes of damage to your foundation such as aging and the usual wear and tear that happens to all foundations as they get older are not covered.
What Foundation Repairs Does Homeowners Insurance Cover
Well, it depends on the situation. You want to discover exactly what caused the problem you are experiencing before anything else. Often it will be plain to see, like damage resulting from an earthquake or tornado.
Sometimes, unfortunately, the essential cause of your foundation trouble might not be evident. If that proves to be the case, then you need to call a foundation specialist to pay a visit and discover what the problem is. A foundation specialist will not only explain to you what created the problem in the first place, but they can estimate for you to a certain degree just how extensive the repairs you have to make will be. Also, the report they give you can serve as evidence when you file your home insurance claim.
Also Read: Does Homeowners Insurance Cover Cracked Foundation?
Common Causes of Foundation Problems
There are many reasons for a house to have foundation issues. Here are some of the most common:
Either too little or too much moisture in your soil
Natural disasters for example tornadoes, mudslides, and earthquakes
Tree roots
Pooling water
Plumbing leaks
Poor construction ( for instance, soil underneath your foundation that is not properly compacted)
Movement of the earth
When Does Your Homeowners Insurance Cover Foundation Damage
A main part of all basic homeowners insurance policies is dwelling coverage, which is the part of your policy that covers the physical structure of the home, also including any attached structures and, last but not least, your foundation. Certain homeowners insurance policies give dwelling coverage on what is referred to as an open perils basis, which means any loss that is not explicitly excluded from your policy will receive coverage.
In most cases, home insurance companies will aid with the cost of foundation repairs in the event of covered perils such as:
Fire
Windstorms
Falling objects
Explosions
Vandalism
Water damage that is caused by your A/C, heating, or plumbing system overflowing
No matter what, it is still vital that you thoroughly read through your policy so that you can determine which covered perils are included. Should any of the above-mentioned things be the cause of your foundation damage, then there is a high probability that your homeowners insurance claim will go through without difficulty.
Also Read: Does Homeowners Insurance Cover Foundation Sinking?
When Homeowners Insurance Will Not Cover Foundation Damage
Here you learn that while homeowners insurance does cover a lot of the causes of foundation damage, not all of them are covered.
An example, sometimes people will simply take for granted that they will receive homeowners foundation coverage from their homeowners insurance agency after any type of natural disaster, however, that is not always the way things work.
When you are reading over your homeowners insurance policy trying to find out when exactly your insurance will cover the expense of damage to a home's foundation, there is one particular phrase you need to watch out for "sudden and accidental." Insurance agencies are sticklers for this rule.
What it means in short is that any damage to your home's foundation that takes place because of an easily preventable situation isn't covered. For instance, say a pipe located in your basement has been steadily leaking for several years and the result of not having this repaired is that it ends up damaging the foundation of your home. This problem is not covered by your homeowners insurance because you could have prevented the situation if you had acted before the foundation problem occurred.
Now you know why proper home maintenance is so crucial. Going the extra mile to prevent certain problems from rearing their ugly heads can actually save you a great deal of money in the long run.
So what are some of these issues that your homeowners insurance won't cover?
Construction failures
Overflowing sump pump
Out-of-control tree roots
Water backups
Daily wear and tear
Fortunately, there are some devices that can alert you to these problems as they come up. These are items such as freeze sensors and water leak detectors. With their help, you can spot the problem quickly and put a halt to the damage before it becomes extremely serious.
If you happen to want to obtain more coverage for your home's foundation, you do have several options. Many insurance companies provide riders that cover perils not usually included in your basic policy and this pertains to foundation coverage as well.
Claim For Foundation Repair
If your foundation ultimately winds up damaged, you will be required to file a claim with your insurance company. You will also need to be able to provide proof that a covered peril is responsible for causing the damage. Here are some steps you should take when filing an insurance claim for foundation repair:
If the damage is the result of an earthquake, vandalism, or a storm, you need to supply evidence of the incident such as weather or police reports.
Get in touch with your insurance agency immediately and give them all the information you can for the claim. This would include not only proof of the actual incident but also pictures of the damage that was sustained.
While you are waiting for a response, do whatever is necessary to prevent any additional damage from taking place. This is because any damage that happens after you file your claim won't be covered.
Once your claim is approved, you will need to have the damage assessed by a foundation inspector.
What you can take away from all this is that the foundation of your home is ordinarily covered by your homeowners insurance, but only under specific conditions. If your claim fails to meet these conditions, then you will not be compensated for any financial loss. This means that the rules work basically the same for your home's foundation as for anything else covered by your insurance policy.