This type of homeowners insurance is a way of providing some extra protection for the homeowner. It is an optional type of insurance addendum that pays the entire cost of replacing your house after a major disaster, regardless of whether or not the amount is more than the limits of your policy.
Guaranteed replacement cost can make a homeowners insurance policy considerably more expensive, but if disaster should strike, you will be glad you have it.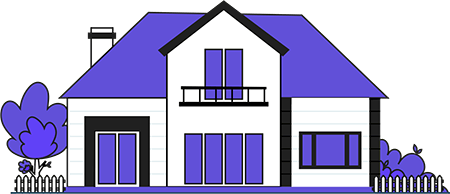 Compare Home Insurance Quotes
Save on your homeowners insurance premium by comparing offers from the best providers in your neighborhood.
How Guaranteed Replacement Cost Works
Your basic homeowners insurance policy will cover your home at its replacement cost. So if your house is destroyed entirely, or severely damaged, the insurance agency will pay to restore it to the condition it was in before the event that caused the loss happened. There will be no depreciation.
Remember though, you are only covered up to the precise limit specified in your insurance policy. This means that if your home is insured for $300,000 but if the cost of rebuilding it after experiencing a disaster is above that, you are left having to pay the extra yourself.
Guaranteed replacement cost insurance will pay the full expense and more until your home is built to the size and specifications it was prior to the disaster. It is for this reason that this type of coverage is frequently found in areas that are prone to tornadoes, hurricanes, and wildfires.
The cost of rebuilding your home usually rises in areas that often experience natural disasters, because there is an increased need for roofing, lumber, and other kinds of construction materials all at the same time. With everyone clamoring for the same items it becomes difficult to keep them in stock, and so companies find they have to scramble to replace their supplies, which naturally, drives up the price. There are even times when it can be a long wait before a project can get started because of lack of the proper supplies.
When it comes to guaranteed replacement cost insurance not all homeowners insurance agencies provide this, so whether or not it is available to you depends on your state and region. However, there are several insurance agencies that do offer guaranteed replacement cost coverage, you just have to shop around to find them.
Also Read: Replacement Cost Value on Homeowners Insurance
Extended Replacement Cost vs Guaranteed Replacement Cost Homeowners Insurance
The major difference between extended replacement cost insurance and guaranteed replacement cost insurance is that extended replacement cost is basically a level beneath guaranteed replacement cost as types of homeowners insurance go. It does give you coverage in the event the need arises to rebuild your home, but the limit increase is capped off at a certain percentage — normally in increments of around 25% to 50% of your policy's dwelling coverage limit.
Price of Guaranteed Replacement Cost Homeowners Insurance
You should know that guaranteed replacement cost insurance can be a quite expensive add-on to your homeowners insurance policy. The price normally varies according to which company you are using and your location, but it's ordinarily around 5% to 10% of the total policy premium.
This is why this type of addition to your insurance policy is normally not worth it for the average homeowner but can be a huge boon for the person living in an area at great risk for certain perils. Never underestimate just how much assistance this type of insurance can give you. It can make the difference between having a home again or living in a hotel until you can afford to rebuild.
What you have hopefully learned from all of this information is that guaranteed replacement cost homeowners insurance is a great benefit for those people living in high-risk, danger zones where their homes could be wiped away by a hurricane, tornado, flood, etc. However, before you invest in this type of policy you need to be sure that you can afford the expense, as it can severely strain your budget, being far more expensive than a regular homeowners insurance policy.  
The good news is that you don't have to spend your money on this type of coverage unless you feel that there's a good probability you will need to make use of it. Then it can be very valuable by paying out above and beyond the limits set by your home insurance alone.