As with auto insurance, you can change your homeowners insurance at any time. However, before making a switch, be sure to compare the coverage amounts, deductibles, and insurer ratings for an apples-to-apples perspective.
No doubt, homeownership comes with many benefits. A home of your own allows you to develop happy memories while building home equity. But along with the advantages comes responsibilities and expenses, such as your mortgage, taxes, and maintenance. Unlike renting, you must repair and replace big-ticket items, including appliances and HVAC systems.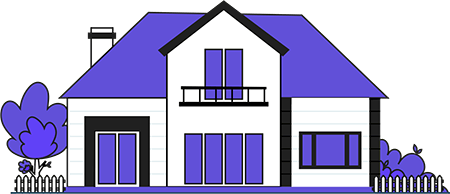 Compare Home Insurance Quotes
Save on your homeowners insurance premium by comparing offers from the best providers in your neighborhood.
With all the money you put into your home, protecting it with a comprehensive homeowners insurance policy makes sense. These policies cover your domicile and all structures attached to it, such as porches and garages. In addition, for an extra fee, you can insure unattached structures on your property. Homeowners insurance also covers your home's contents and protects you from liability and theft.
Without homeowners insurance, you could lose everything you put into your home; a devastating loss few could fully recover from. Your homeowners policy provides the peace of mind that should a catastrophe strike, you'll have the help you need to rebuild your life.
However, not all homeowners policies are the same. Some offer lower deductibles and rates, while others provide more extensive coverage. While you can change the deductibles and coverage of your policy, many homeowners shop around and find they can obtain better rates or more comprehensive coverage with another company, leading them to ask when they can change their homeowners policy.
When to Consider Switching Your Home Insurance Company
If you're contemplating changing insurance companies, you want to ensure that you maintain at least the same standard of coverage or improve it. Some insurance companies have higher ratings than others. These ratings are based on the financial strength of the insurer. If an insurer with a lower rating offers a cut-rate, do a thorough investigation before changing. A lower-rated insurer may be more stingy when it comes to claims payouts, a situation that can wipe away any savings on premiums should you file a claim.
The most common reasons homeowners change insurance providers include dissatisfaction with the service, a desire to save money, and discounts for bundling policies. Certainly, homeowners dissatisfied with the service should consider a switch. You want to know that your insurer has your back should a disaster strike. Also, provided the insurer has strong ratings, bundling home, auto, and other policies can be a big money saver.
The Fine Print
Before changing insurers, examine the policy's fine print. Often, insurers have different terms buried in the policy clauses. The last thing you want is to switch insurers to later find out that a costly item is excluded.
For example, some insurers have more stringent exclusions on mold damage. If your current insurer covers mold damage from floods generously but a competitor excludes it, a change may be disadvantageous, even if the premium is substantially lower.
Insurance is complex, and more needs to go into your consideration than the premiums. Firstly, compare the coverage limits and deductibles to ensure equivalency. Secondly, look at the cost for riders, such as adding unattached structures or a swimming pool to the policy. Thirdly, research the insurance company's financial strength and claims payment history. Finally, review the policy fine print to see if there are differences in how they cover certain claim types.
Changing homeowners insurance companies may benefit you, but do your homework before making a switch.