If you take out a mortgage, you need homeowners insurance at the closing. Lenders require proof of insurance before funding the loan, so the deal cannot close without it. You can set up a homeowners insurance policy to take effect on the closing date. The insurance company then provides the title company with proof of insurance upon request.
It's advisable to give yourself at least several weeks to shop for insurance. You want to receive quotes from several sources and ensure that you obtain the coverage limits and benefits you need. Also, insurers check the claims history for the property and you. If there are any errors or snags related to claims history, you need time to get them sorted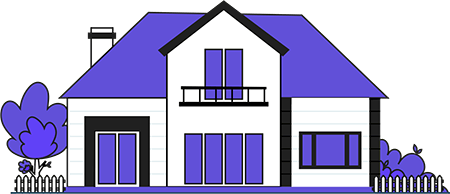 Compare Home Insurance Quotes
Save on your homeowners insurance premium by comparing offers from the best providers in your neighborhood.
Is Hazard Insurance the Same as Homeowners Insurance?
Mortgage lenders often refer to homeowners insurance as "hazard insurance" on the loan documents. They are one and the same. You are covered for any hazard insurance stipulations as long as you have a homeowners policy in force. Note that homeowners policies exclude flood, earthquake, and hurricane claims. If your mortgage contract requires these, you must purchase them as separate policies.
Do I Need Additional Home Protection Policies?
Since homeowners insurance excludes some types of damages, you need additional policies for homes located in an area prone to specific events. For example, if you live in a flood zone, you need to purchase flood insurance. Earthquake-prone locations, such as part of California, also need additional policies. Also, if your home lies in the potential path of a hurricane, you may need hurricane insurance.
What Does Homeowners Insurance Cover?
While homeowners insurance excludes some catastrophic events, it covers most of costly disasters. With a typical homeowners policy, you can expect coverage for these areas:
Your Domicile
Homeowners insurance coverage pays for repairing or rebuilding your home and all structures attached to it, such as a porch or garage. Unattached structures, including garages, gazebos, and pool shelters, require a separate add-on to the policy.
Personal Property
A standard homeowners insurance policy covers the contents of your home. Contents include personal items, electronics, furniture, clothing, and housewares. Homeowners insurance also covers appliances. Valuables, such as expensive jewelry, collectibles, and precious metals, may need a separate add-on or policy.
Alternate Housing
When a disaster renders your home uninhabitable, you may need to purchase temporary housing, such as a hotel or apartment. Homeowners policies cover the cost of renting an additional dwelling. In addition, they pay for food, extra transportation, and other expenses incurred because of the loss of use of your home.
Liability
As a homeowner, you become responsible for accidents on your property, such as a slip and fall or dog bite. Your homeowners policy covers the settlement and the legal fees should you face a lawsuit.
Do Cash Home Buyers Need Homeowners Insurance?
In terms of legal requirements, no. In terms of protecting their investment, yes.
No law requires homeowners to purchase insurance. Instead, mortgage companies make the coverage part of the loan contract, creating a legal obligation. Because of the language included in the agreement, mortgage companies can force the purchase of insurance on non-compliant customers.
However, if no mortgage company is involved, no obligation to purchase insurance exists.
However, cash buyers sink a lot of money into a new home. Imagine if that entire investment, and all the contents of the house, were destroyed by a fire or storm? Even lesser disasters, such as a burst pipe, lawsuit, or burglary, can cost the homeowner dearly. The premiums for homeowners insurance are small compared to the cost of these catastrophes.
Whether you have a mortgage or not, it makes financial sense to shop around for a policy as soon as you have a home under contract. These policies protect what is, for most Americans, their largest investment. By having a homeowners insurance policy in force before the close, the mortgage company is satisfied, and your future is protected.