No homeowner should forgo insuring their home because the cost of replacing the structure, its contents, and potential liability is far too high for most families. Specifically, it is important to have homeowners insurance because mortgage companies require it. In addition, it protects the home and its contents, liability claims are covered, and policyholders receive compensation if they must evacuate the property.
Mortgage Companies Require It
No law forces you to buy homeowners insurance if you own your home free and clear. However, you must be willing to risk paying out of pocket for the loss of your home's contents, severe structural damage, or replacement of the entire building. Of course, no financial advisor recommends taking on that much risk given the relatively low cost of homeowners insurance.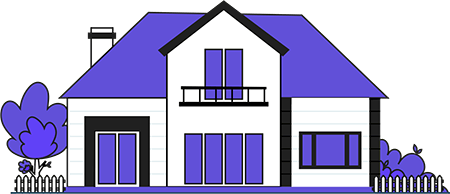 Compare Home Insurance Quotes
Save on your homeowners insurance premium by comparing offers from the best providers in your neighborhood.
However, mortgage companies stipulate in loan agreements that the property holder must carry homeowners insurance. They require the insurance to protect themselves: An uninsured owner could walk away from a destroyed property and leave the mortgage company with the repair or replacement expenses.
If you neglect to insure a mortgaged home, the lender can buy forced insurance. This type of insurance comes at a heavy premium to the homeowner and offers no protection for the content of the home, making it a far worse proposition than simply buying a standard homeowners policy.
It Protects Your Home
Most disasters come with little or no warning. A fire, tornado, or pipe burst can severely damage or destroy a home in minutes, leaving the owner facing tens of thousands or hundreds of thousands of dollars in rebuilding costs.
Homeowners insurance prevents property holders from facing such ruinous prospects. A policy covers the cost of restoring the home to its condition before the event. In the case of a total loss, it funds the construction of a comparable home on the property. Most families lack the resources to afford such large projects, making homeowners insurance necessary.
Coverage for Personal Belongings
Often, the possessions in the home are more valuable than the home itself. Many family homes contain the acquisitions of a lifetime, and replacing them out of pocket is an impossibility. These personal possessions may be destroyed in an event like a fire or storm. They could also be stolen in a burglary. In either case, your homeowners insurance policy covers them.
However, policies differ. Some cover the cash value of the possessions, while others pay the replacement cost. The cash value of many items, such as electronics, furniture, and clothing, depreciates substantially. Cash value policies, therefore, leave you with less than the replacement cost. If you opt for a replacement value policy, you'll receive the total amount to repurchase an equivalent or similar item.
Liability Protection
When you become a property owner, you take on liability risk. Should someone suffer an injury on your property, including slip and falls, dog bites, or freak accidents, you may be responsible for their damages. Personal injury liability may include medical bills, lost wages, and pain and suffering. For most families, funding a settlement of this kind is beyond their means. But with a homeowners insurance policy in place, they are fully covered should a liability claim ensue.
Additional Living Expenses
Severe damage can make a home uninhabitable. For example, a pipe burst may inundate the home with standing water and mold, requiring the occupants to move out until remediation can be completed. Being forced out of the home leads to additional living expenses, such as hotel bills, restaurant meals, and transportation expenses. Homeowners insurance policies provide funds for these expenses, allowing policyholders to remain in solid financial standing while their home is under repair.
Homeowners Insurance Provides Peace of Mind
Home disasters are stressful and expensive. A sudden catastrophe can cause thousands of dollars in damage and force you to suddenly move. Because homeowners insurance policies provide compensation for these hardships, they provide peace of mind. A home is the most significant investment for most families, and replacing it with personal funds is impossible. Home insurance prevents catastrophic residential losses or liability from turning into a financial disaster.